A 52-year-old Lawrence man was taken to Lawrence Memorial Hospital Friday morning after his bicycle collided with a city sanitation vehicle in North Lawrence.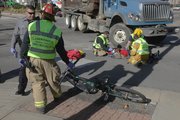 Sgt. Matt Sarna, a Lawrence police spokesman, said the bicyclist received a citation for operating a bicycle without brakes. The sanitation vehicle's driver at 11:20 a.m. was completing a legal left-turn onto Lyon Street from North Second Street when the cyclist, who was northbound on the east sidewalk, entered the intersection and struck the city truck, Sarna said.
The cyclist's injuries were not believed to be life threatening, police said.
Copyright 2018 The Lawrence Journal-World. All rights reserved. This material may not be published, broadcast, rewritten or redistributed. We strive to uphold our values for every story published.