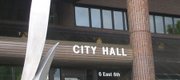 Subscribe to the email edition of Town Talk and we'll deliver you the latest city news and notes every weekday at noon.
News and notes from around town:
• UPDATE: The construction cones are about to come down on Kasold Drive between Clinton Parkway and 31st Street.
The city will have the road completely open to all traffic by Wednesday. The rebuilding of Kasold Drive has been underway since December 2010, and has included one-way traffic and multiple turning restrictions.
Motorists should start noticing a difference on Friday. Crews will open both northbound and southbound lanes to traffic, but the will still be intermittent lane closures until Wednesday. Crews also will be back next spring for a short period of time to apply permanent striping to the road, which can not be done now due to cold temperatures.
• I believe it was Kermit The Frog who said, "It ain't easy being green." Well, there's an area entrepreneur who is building a business around the idea of helping people learn how to be green. Tamara Fairbanks-Ishmael has filed for the necessary permits to open Good Earth Gatherings on her rural property that is just south of Haskell Avenue extended and Wells Overlook Road. The business will offer evening classes on a variety of healthy and sustainable living topics, such as safe and easy food preservation, nature printing, fung shui for the home, natural fiber dying, freeing creativity with art journaling, holiday decorating with natural products, and gifts from the garden. (If she can figure out how to make a weed a gift, I'm set for several Christmases to come.) Fairbanks-Ishmael got the idea for the business after recently starting the Kaw Valley Herbs Study Group. She said interest in that group that meets once a month has been strong, with nearly 50 people showing up for some meetings.
"I think there is just a groundswell of interest in how to empower yourself to live more holistically," said Fairbanks-Ishmael, who used to be a teacher in the Lawrence Public School system.
Fairbanks-Ishmael needs to win approval from both the Planning Commission and the Douglas County Commission before she can open her business at her home at 858 E. 1500 Road. She hopes to begin offering classes by fall 2012.
• On Wednesday, I wrote about how boring documents such as area plans — like the one for the apartment area near Clinton Parkway and Crossgate — can have real-life implications. Same goes for master plans. City commissioners at their Tuesday evening meeting approved a master plan that technically puts the city on track to spend $2.2 million worth of local funds on airport improvements over the next five years. The city's new airport master plan calls for an extended taxiway, an extended runway, extended parking areas for airplanes and several other projects. Now, whether the city does all those projects is highly debatable. But they might. The city's airport may not land big commercial jets, but it does land a lot of federal dollars. The Federal Aviation Administration will provide grants for many airport improvements, and the feds will pay for upwards of 90 percent of the project's cost. But you can't apply for the grants unless you have a master plan, thus this new master plan. During the next 20 years, the master plan calls for about $35 million worth of projects at the airport — with about $6 million of that coming from the city. Projects include everything from more T-hangars to an expansion of the airport's terminal. The master plan also sets aside several lots on the airport property itself to be used for businesses that want to locate at the airport. We've previously reported that an area helicopter company and a aviation design firm both have interest in locating at the airport. The city even has spent significant money extending city water service to the airport. But the last I heard, the economy had slowed interest from both those companies for the time being.
The master plan also predicts future activity at the airport. Currently there are 60 aircraft based at the airport. By 2030, planners predict there will be 90, including three business jets, up from one today. The total number of operations — things such as takeoffs and landings — are expected to grow from about 32,000 today to about 45,000 in 2030.
• Planes vs. parachutes — I know which one I would rather use. But there is quite a debate going on regarding whether a parachute company should be allowed to use the Lawrence Municipal Airport as a landing zone. An area businessman by the name of William McCauley wants to use the airport for a business where he takes up parachute enthusiasts who then do what parachute enthusiasts do — jump out of a plane. (My wife has been trying to get me to take up that hobby for years. She would even pack my parachute for me.) But McCauley also wants to use the airport property as a landing zone for the parachutists. City airport leaders have balked at the idea, which has really made McCauley mad. He says that since the city accepts all this federal grant money to improve the airport, it can't discriminate against legitimate aviation activities at the airport. A consulting firm hired by the city to create the master plan said this week that McCauley is right about that. But the consultants also said the FAA gives airports the ability to make reasonable rules and regulations. The consultants said they had concerns about a parachute company regularly using the airport as a landing zone. The airport property is small enough that any place a parachutists lands will be pretty close to a runway. That means that aircraft in the area will have to be notified not to use the airport during those specific time periods. Because the Lawrence airport operates without an air traffic control tower, that communication becomes a bit more difficult. The consultants said the city may need to consider setting aside a few days a year where the parachute activity could take place, but likely wouldn't be required to allow it on a regular basis. McCauley thinks the city is being unreasonable, and has filed a complaint with the FAA. The city has responded to the complaint, but a timeline hasn't been determined for when the FAA may weigh in on the issue.
Copyright 2018 The Lawrence Journal-World. All rights reserved. This material may not be published, broadcast, rewritten or redistributed. We strive to uphold our values for every story published.