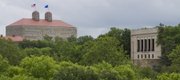 Subscribe to the email edition of Heard on the Hill and we'll deliver you the latest KU news and notes every weekday at noon.
Your daily dose of news, notes and links from around Kansas University.
• Here's a pretty interesting blog from U.S. News and World Report featuring a Lindsey Mayfield, a KU sophomore studying journalism and political science, and her mother, Julie Mayfield, a finance blogger at The Family CEO.
They're writing about approaching college for the first time from a parent's perspective and from a student's view.
In this post, "10 Tips on Choosing the Right Major," the duo makes reference to the T-shirts available here from the School of Business, School of Pharmacy, School of Engineering and more.
"There's also a T-shirt with the word 'UNDECIDED' printed across the front in all caps," they wrote.
They go on to offer 10 tips for choosing a major — look at what you're interested in, pick a school strong in several different majors if you decide to change and don't be afraid to seek out help.
I haven't had time to go back and read the rest of their stuff, but I'd bet they've got some good things to say, and I'll be following them from now on.
• KU Chancellor Bernadette Gray-Little was in North Carolina Wednesday to receive the Davie Award, the highest honor given by her former university's Board of Trustees.
She was one of four people to receive the award, which was established by the university's board in 1984, and is named for the Revolutionary War hero considered to be the father of the university.
A former recipient of the award is James Moeser, a former KU dean of fine arts who became chancellor at UNC.
She had to miss the Kansas Board of Regents meeting, where I was hanging out, but Kansas Board of Regents Chairman Ed McKechnie didn't seem to mind terribly much.
He told the audience in Topeka that the chancellor was receiving the highest award given "in some university" — a nod to the beginning of basketball season — but congratulated her nonetheless.
• Thanks to a sweet tipster who told me that KU filmmaker Kevin Willmott, who I profiled in a "16 Things I've Done" article earlier this month, has successfully met his $20,000 fundraising goal for his new film, "The Sublime and the Beautiful."
There's a lot of information about the film at this link.
That site shows that 251 donors have contributed $20,050 for the movie. One person even donated $2,000, which gave that person a role in the film.
• You don't have to donate $2,000 to get a role in Heard on the Hill. Just send your tip to ahyland@ljworld.com.
Copyright 2018 The Lawrence Journal-World. All rights reserved. This material may not be published, broadcast, rewritten or redistributed. We strive to uphold our values for every story published.