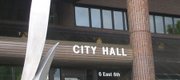 Subscribe to the email edition of Town Talk and we'll deliver you the latest city news and notes every weekday at noon.
News and notes from around town:
• I got the feeling from last night's Lawrence City Commission meeting that commissioners have a mell of hess on their hands when it comes to deciding whether to allow an expansion of apartments near Clinton Parkway and Crossgate. At least two points became pretty obvious after listening to about an hour's worth of public comment and staff presentations.
There are a lot of neighbors near the apartment site that really don't want this project. They feel burned by the city and they feel burned by developers who they think are just wearing the neighborhood down by coming back with request after request for the area.
The city's own planning document — namely the Inverness Park District Plan — calls for the future land use for this particular area to be an apartment complex almost exactly as the developer has proposed. And that plan is not some plan that is sitting there gathering dust. It was approved by city commissioners in September. As one commissioner noted, the ink isn't even dry on the plan and already there is consideration of deviating from it.
It appears commissioners have two choices that they don't really like. If they go against their plan, that will give ammunition to folks who say the city is business-unfriendly and that it does planning by whichever way the wind is blowing. For a planning document, this one is pretty specific. It actually mentions the exact piece of property that is the site for the proposed apartment expansion. The plan says the piece of property is appropriate for RM-24 zoning, which is what the developer is asking for. And it also says the site is appropriate for one-bedroom apartments, which is what the developer — Lawrence businessman Tim Stultz — is proposing to build (136 of them). The city, through the plan it unanimously approved, sent a pretty clear signal to the development community that it wanted more apartments on this piece of property. And now, just two months later, it may deny them. That won't win the city friends in the already-struggling development community.
But talk about not winning friends. The neighbors out there are fed up. Several noted that when they bought their houses years ago they investigated at City Hall what this big vacant piece of property was supposed to become. At that time, there was a plan on the books that it would become a retirement community. Sounds pleasant. That plan fell apart before it got started — but after many adjacent homes already had been built and sold. The area since has evolved into a major apartment district. If this latest proposal of 136 units is approved, there will be more than 800 apartments on the stretch of ground between Inverness and Crossgate.
To top it off, neighbors feel like developers have been sneaky about it. They think that is the case here. The property in question already has 224 apartments on it. That's the most the developer can have on the property with the current RM-15 zoning. So, neighbors thought the project was done. But the developer built the existing apartments basically on just two-thirds of his lot. That left another third that is basically wide open. If he can get the zoning increased, he can build another 136 apartments.
Neighbors think that is sneaky. The developer said he wasn't trying to be sneaky but rather was trying to figure out whether his unique concept of building only one-bedroom apartments would work in Lawrence. It did — he says he has a waiting list of about 40 people — and now he's trying to figure out how to expand. (Note: At least one apartment complex is opposing this expansion. The manager for the nearby Legends Place Apartments told commissioners that the apartment market is overbuilt. She said that complex in the past has had about a 50 percent vacancy rate, although its vacancy rate is below 10 percent currently. But commissioners didn't spend much time trying to figure out vacancy rates. Some noted that it would be hard to do. For example, is the vacancy rate high for large, multi-bedroom apartments but low for one-bedroom apartments like the ones being proposed? Do you make renters live with what we have or give them what they want?)
Commissioners also expressed disappointment that the neighborhood didn't come out in opposition to the recently approved Inverness Park District Plan, which calls for this type of apartment development. But neighbors said they really don't understand such plans. Even though the plan was pretty clear for a planning document, it does take some time to read. And even if you read the plan, it is pretty easy to get distracted with other issues. For example, I don't remember this part of the plan getting a lot of discussion with city commissioners. The big point of discussion with many — me included — was a change that will allow commercial/office development at both the intersections of Clinton Parkway and Crossgate and Clinton Parkway and Inverness. Previously, apartments could have been allowed on those sites too. The change cleared the way for Hy-Vee to submit plans to build a convenience store at the Clinton Parkway and Crossgate site, right next to the proposed apartment expansion.
In case you missed it, by the way, commissioners did what they sometimes do with tough issues. They deferred a decision. Commissioner Mike Amyx said he needed more time to sort through this whole mess. Commissioners are scheduled to hear it again on Dec. 13.
• A complete change of gears here: Anybody remember the Wakarusa Music Festival? All right, some of you who were there, I can understand why you may not remember. But the rest of us remember. It was a big music festival out at Clinton State Park. It was loved by some, not loved by others. When state park folks started expressing some concerns over safety, crowds and other issues, a dispute arose. Long story short, the festival moved to a retreat near Ozark, Ark., in 2009. Well, in case you're wondering, the festival is thriving. Wakarusa was recently named as one of seven events in the running to win the title of Music Festival of the Year at the annual Pollstar Concert Industry Awards (which hip people tell me is kind of like the Oscars for music shows). The winner will be announced in February. Although the festival is no longer in Lawrence, it is still run by a Lawrence company — Pipeline Productions. The event in Arkansas is drawing about 20,000 people a year over its four-day run each summer.
• That's it today. I know I usually give you three items, but I've got an interview to get to. (Here's a hint, look for a story about the future of tall buildings in Downtown Lawrence.) So, I'll give you a discount on your purchase price of Town Talk today. Oh wait … that's right. Never mind.
Copyright 2018 The Lawrence Journal-World. All rights reserved. This material may not be published, broadcast, rewritten or redistributed. We strive to uphold our values for every story published.