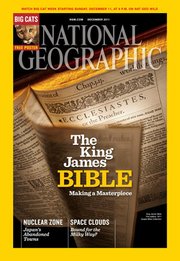 The cover photo on December's edition of National Geographic isn't from a faraway land like Borneo, Palau or Nauru. Instead, it was shot in Baldwin City, featuring a King James Bible from the collection at Baker University.
The Bible, from the university's William A. Quayle Bible Collection, was used to highlight the magazine's cover story, "The King James Bible: Making a Masterpiece," for the book's 400th anniversary, according to a release from the school.
Baker will host an open house from 1 p.m. to 3 p.m. Dec. 4, at the Alumni Center, 519 Eighth St., to showcase the King James Bible featured in the magazine.
The Quayle collection features several King James bibles, including two first-edition copies from 1611.
Kay Bradt, Baker's director of library services, said the book featured on the cover was one of those two. It's a "He Bible," so named because it uses the word "he" in Ruth 3:15. Other first-edition Bibles use the word "she" in that verse, and the library has a copy of that book, too, she said.
"It just feels wonderful," Bradt said of the attention. "The Quayle collection is something of a hidden treasure."
She said she hoped the magazine would help bring attention to the collection, which features about 620 items, most of which are Bibles. The collection also features commentaries and other pieces of literature.
Jim Richardson, a photojournalist based in Lindsborg, shot the photo for the magazine's cover.
The Bible collection began with a 1925 gift from the estate of Bishop William A. Quayle, a Baker alumnus who went on to serve as the university's president. It is regularly open from 1 p.m. to 4 p.m. Saturdays and Sundays and by appointment. The collection is in the south wing of Baker's Collins Library, 518 Eighth St.
Copyright 2018 The Lawrence Journal-World. All rights reserved. This material may not be published, broadcast, rewritten or redistributed. We strive to uphold our values for every story published.