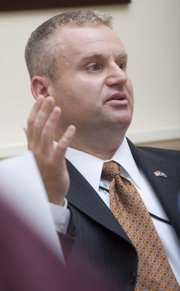 Topeka — Kansas lawmakers asked the head of the state's welfare agency Tuesday to explain comments they said he made about some residents being more willing to accept state assistance than find jobs.
Rep. Jim Ward, a Wichita Democrat, said he doubted the estimated 22,000 unemployed workers in the south-central Kansas city would prefer to get food or cash assistance rather than take a job at one of Wichita's many aviation factories.
"Some people in Kansas are broken," Ward said.
Rob Siedlecki, appointed as Kansas Social and Rehabilitation Services secretary by Republican Gov. Sam Brownback, said some people refuse to help themselves by finding a job, especially when eligibility for benefits can change by just a few dollars more in income, complicating their lives.
"I think some people do that," Siedlecki said. "I believe there is hope for everyone. I want to make SRS the agency to give people hope."
He said many of the reforms his agency is considering would put greater emphasis on helping clients find employment and improving their lives. Siedlecki said he wants to work with commerce and labor officials to better match people needing workers with clients who possess the necessary skills, or help clients find additional training.
Legislators said that the difficult economy has made public assistance the only option for some people.
"Where are the jobs going to come from?" asked Sen. Laura Kelly, a Topeka Democrat.
Siedlecki said tax cuts and other incentives would help create private sector jobs. He agreed with Kelly who said transportation issues often make finding employment difficult and said his agency would try to reallocate funds to help with that.
Brownback wants to reorganize three state agencies that handle Medicaid-related services. SRS would turn some of its programs over to the new Department of Aging and Human Services. Other services would shift from the Department of Health and Environment and the Juvenile Justice Authority to SRS, with the agency being renamed Department for Children and Family Services.
The changes will be sent to the Legislature next year in a series of executive reorganization orders. Legislators approved similar restructuring for other state agencies this year.
Siedlecki said although he isn't proposing such a requirement he wasn't opposed to implementing mandatory drug testing for clients seeking assistance. A similar program has been approved in Missouri but is being challenged in court.
He said if someone were to be found with a substance or gambling addiction that the agency would try to help them get treatment and improve their lives.
"I think it's a good idea," Siedlecki said.
Copyright 2018 The Associated Press. All rights reserved. This material may not be published, broadcast, rewritten or redistributed. We strive to uphold our values for every story published.