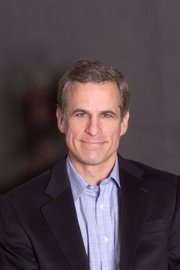 If there is a Kansas University alumnus out there who knows how to fix what ails Wall Street, it may be Robert Kaplan, the former vice chairman of the Wall Street powerhouse Goldman Sachs.
But there's one problem: Kaplan isn't sure that fixing Wall Street is where America should be spending most of its time.
"This crisis didn't start with Wall Street," said Kaplan, who left his job of overseeing investment banking operations for Goldman in 2005. "They made it worse, but this crisis really is about the erosion of the middle class of the United States."
Kaplan, now a professor at the Harvard Business School, will be the featured speaker at an event at 7:30 p.m. Thursday at the Dole Institute of Politics, 2350 Petefish Drive.
Kaplan — who is promoting a new book he has written on leadership — said the financial crisis that has resulted from the bursting of the housing bubble is in large part because "a family of four can't make ends meet if they are making $45,000 or $50,000 a year."
"The middle class is eroding, and we will continue to have volatility as long as that is the case," Kaplan said.
But Kaplan isn't giving Wall Street an entirely free pass on the role it played in the financial crisis. Kaplan — who grew up in Kansas City and received an undergraduate degree from KU in 1979 — said he had become uncomfortable at Goldman Sachs prior to leaving in 2005. He said that Wall Street had become dominated by the "zero sum game" of trading financial instruments — everything from simple bonds to complicated derivatives.
"It is a casino," Kaplan said of the trading environment. "It is about too much trading and not enough client focus. Wall Street has to again become focused on clients.
"I think it is incumbent that Wall Street firms prove that they can make a positive difference in the world. I know most of the Wall Street CEOs, and I tell them that they need to prove it. Talk won't matter anymore."
Kaplan said he would like to see the government make a larger investment in infrastructure, which he believes will help foster growth that will benefit the middle class. He also supports an extension of the federal payroll tax holiday, and would like the government to create more certainty in the regulatory environment regarding small businesses.
"There is a lot of uncertainty right now, and it is undermining our growth potential," Kaplan said.
On other issues, Kaplan:
• Is a founding member of the No Labels movement, which advocates for less partisanship in politics, and particularly believes the variety of pledges lawmakers are pressured to sign is detrimental to governing.
"Almost 60 percent of the members of Congress have taken some sort of pledge to not take some sort of action," Kaplan said. "Our view is the only pledge they should be taking is the oath of office."
• Believes Congressional leaders still have a chance to reach a significant agreement on reducing the deficit, but will "have to make everybody mad" by reforming entitlement programs and raising taxes.
• Thinks Europe's current debt crisis should serve as a warning to the United States.
"We're not as different from Europe as we would like to think," Kaplan said. "The main difference between us and them is that we can print money and they can't. Frankly, what we're seeing in Europe is what can happen, if we let this go too long."
Thursday's event is open to the public. After Kaplan speaks, he will sign copies of his book, "What to Ask the Person in the Mirror: Critical Questions for Becoming a More Effective Leader and Reaching Your Potential."
Copyright 2018 The Lawrence Journal-World. All rights reserved. This material may not be published, broadcast, rewritten or redistributed. We strive to uphold our values for every story published.