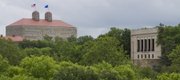 Subscribe to the email edition of Heard on the Hill and we'll deliver you the latest KU news and notes every weekday at noon.
Your daily dose of news, notes and links from around Kansas University.
• The death of the MU-KU rivalry, yeah that's KU's fault. So says the Maneater, a student newspaper at the University of Missouri.
The editorial picks up on comments from KU's chancellor saying the school was sorry to see the rivalry end, and basketball coach Bill Self saying the majority of KU fans don't "give a flip" about playing Missouri.
"Both statements give off a defeatist attitude and indicate the KU administration is out of touch with the reality of rivalries in college athletics," the editorial says. "There is no rule, written or unwritten, that mandates a rivalry can only be sustained if both schools are in the same conference."
Missouri's leaving the Big 12 Conference has already attracted a fair bit of snippy comments and rancor on both sides.
There was, of course, this tweet from KU's official KU News Twitter account that attracted a fair amount of attention, too.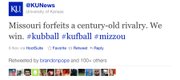 It's these kinds of back-and-forth exchanges that make me think this rivalry will stay alive and well even if these two teams don't play for some time.
• Here's some Heard on the Hill kudos for Bernie Kish, a lecturer in the department of health, sport and exercise sciences, who received the annual HOPE award at Saturday's football game.
The HOPE award is a pretty nice honor. Established by the Class of 1959, it's an honor for teaching excellence given to faculty entirely by students.
I attended the football game on Saturday, and, sadly, the result on the field wasn't as happy, to put it mildly.
• The Times of Northwest Indiana wrote a bit about the monarch butterfly waystations in the area, a project of KU's Monarch Watch program.
Monarch folks around the country have more than 5,000 waystations, which are gardens that have plants friendly to monarchs in support of their migration, and the Times reported that about 200 of those are in Indiana.
Here's the complete list. It shows waystations in places outside the country, too, like Grand Bahama Island, Rockingham, Australia.
• It might not save the monarchs, but if you've got a tip for Heard on the Hill, you should send it to ahyland@ljworld.com.
Copyright 2017 The Lawrence Journal-World. All rights reserved. This material may not be published, broadcast, rewritten or redistributed. We strive to uphold our values for every story published.