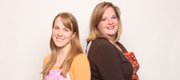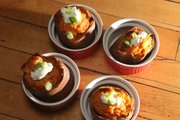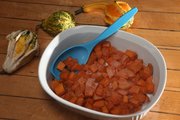 In our first Delicious/Nutritious challenge, the cooks came up with savory and sweet options for sweet potatoes. Megan presents the delicious, and Sarah counters with nutritious — not to say that Megan's is wholly unhealthy or Sarah's isn't tasty. Try whichever suits your dinner-table disposition.
Delicious
When Sarah and I decided on sweet potatoes as our "challenge" this month, the first thing I thought was, "Oh, Mr. Meat and Potatoes is gonna HATE this." Dude is so not about an orange potato. Give him a white one, either baked or mashed, and please, for crying out loud, do not leave the peels on if you're mashing.
So I set out to make a sweet potato even my staunch He-Man Sweet Potato Hater would maybe, possibly, enjoy. The problem, you see, is in the sweet. Neither of us are big on sweet things and usually readily forgo dessert options for another helping of taters or noodles. So I wanted to work toward the savory with this, and maybe even spicy, because that usually gets his attention.
To that end, the Twice Baked Chipotle-Lime Sweet Potato was born. And people, it's easy. And yes, I've probably managed to make even one of nature's healthiest offerings, the sweet potato, a heart-attack inducer. I'm sorry. I blame my husband.
Twice-Baked Chipotle Lime Sweet Potatoes
3 large sweet potatoes
1 teaspoon fresh lime juice
3 oz. cream cheese
1/3 cup sour cream
1/2 stick of melted butter
1 clove minced garlic or 1/4 teaspoon of garlic powder
kosher salt
cracked black pepper
1 teaspoon chipotle seasoning 
cooking spray
olive oil
First, heat your oven to 400 degrees and spray a baking sheet with cooking spray. Then cut the pointy ends off of the taters enough that you have two fairly wide, flat surfaces, and then cut the tater in half. If you stand those halves on end, you should have two nice "tree stumps," and that is what you're going for. Do this to all three potatoes, and then either spray them with cooking spray or rub with a little olive oil.
Put them on the baking sheet with the widest side down, sprinkle lightly with kosher salt and bake for about 45 minutes, until they're fork-tender. Bake the ends, too — you can use them in the filling later. They're still good!
When your sweet potatoes are cooked, remove them from the heat and let them cool for a few minutes. Turn them over so you are scooping from the wide end, and then, using a melon baller or a tablespoon, scoop out the inside into a bowl. Leave enough around the edges to make your tree stump a cup of sorts. I left a little on the bottom too, to keep things inside — that end should be nice and crispy from the baking.
Put all your sweet potato innards in the bowl, and then add the following: melted butter, cream cheese, sour cream, a generous pinch of salt, garlic and a few good cranks of cracked black pepper. Also, here you can add your chipotle seasoning and your lime. I did a teaspoon of each, but if your family isn't big on spicy, back off that chipotle to maybe 1/2 a teaspoon. We likey the spicy, but not everyone enjoys that.
Mash that all together with a fork or potato masher, and then gently spoon it back into your potato cups. Or, if you are fancy, you can pipe it in with a pastry bag. Return it to a 350 degree oven to crisp the top and warm through, and then garnish with a small dollop of sour cream and a few chopped green onions or some cilantro.
And yes, even Mr. Meat and Potatoes gave it the ol' thumbs up. Mission. Accomplished.
Nutritious
I truly look forward to sweet potato season all year. In fact, I could probably eat them every meal of every day until my skin turned so orange you'd think I was an Oompa Loompa.
A fictional character I'm not, but I'd like to think I make some tasty taters.
Not that sweet potatoes need much help. They're called "sweet" for a reason, of course.
When Columbus brought the tubers to Europe from the New World, he just called them potatoes (well, "batatas"), but later, when what we consider plain old potatoes were discovered, they started calling the orange, New World variety "sweet potatoes" (or "boniatos," if you're a Spaniard). It seems kind of backwards — you know, the sweet ones being renamed and all — but that's how things went down, according to Aliza Green's excellent "Field Guide to Produce."
All told, I don't think sweet potatoes need much help being sweet. And believe me, I'm a sugar seeker. I much prefer sweet to savory in pretty much any instance under the sun. But, when it comes to my sweet potatoes, I don't like to suffocate their delicate flavor with an avalanche of marshmallows, layer of pineapple rings or mound of brown sugar. Rather, I like to bring out their flavor with spice.
And, for the holidays, there's nothing better or more elegant to achieve that goal than ginger.
Warming and full of flavor, ginger is extremely comforting on days when the temperatures tank and the heater just doesn't seem up to snuff. And beyond taste, ginger has been heralded for its healing properties. The root contains gingerols, which are so powerful they've been studied for their effects on patients suffering from various ailments, including muscle pain, osteoarthritis and even colorectal cancer.
Though the jury's still out just how great of a natural healer ginger is, there's no clinical studies needed to prove it's one of this country's most festive winter flavors — fitting snugly in the holiday culinary canon next to sugar plums, roasted chestnuts and items made with "nog."
Therefore, ginger's festive and healthful properties added to the great nutritious aspects of sweet potatoes (one 5-inch sweet potato has 369 percent of your daily Vitamin A) and enhanced by a bit of fat (to help you absorb all that Vitamin A) can be quite the winning combination for both flavor and health.
To up the ante, I also threw in a bit of extra seasoning and a minimal amount of additional sugar to satisfy the wide variety of taste buds bound to round out a holiday table. Because, you know, I wouldn't mind if several other people had a boniato-induced, orange-ish cast, too.
Spicy Ginger Holiday Sweet Potatoes
2 pounds sweet potatoes, peeled, and cut into 1/2-inch chunks
1 tablespoon olive oil
1 tablespoon maple syrup
1/2 teaspoon salt
1/4 teaspoon black pepper
1/4 teaspoon powdered ginger
2 tablespoons brown sugar
Set oven to 350 degrees. Spray a 3-quart glass Pyrex pan with olive oil cooking spray. Put sweet potatoes into a large bowl.
Whisk together all other ingredients except for the brown sugar in a small dish. Pour the mixture over the sweet potatoes and stir with a wooden spoon to evenly coat the potatoes.
Pour the coated potatoes into the glass dish and use a spoon to spread into an even layer. It's OK if the pieces touch.
Cook 25 minutes. Stir with your wooden spoon. Put in for another 25-30 minutes.
During the last 5 minutes (or thereabouts), pull out of the oven, sprinkle on the brown sugar and then put back into the oven.
Serves 4-6.
Copyright 2018 The Lawrence Journal-World. All rights reserved. This material may not be published, broadcast, rewritten or redistributed. We strive to uphold our values for every story published.