From the Lawrence Daily Journal-World for Nov. 14, 1971:
Douglas County Road No. 438, then better known as the Lecompton Middle Road, had lived its life up until now unfettered by any speed limits. Today that era of freedom came to an end as county commissioners set the speed limit on that road at 50 miles an hour. The action had come after several complaints from people who lived along the road. Mrs. Joyce Boyd and Mrs. Merle Ward had approached the commissioners on separate occasions saying that trucks traveling along the road were reaching dangerous rates of speed.
Lawrence mothers Mrs. Jerry Nossaman and Mrs. Tom Fisher, both residents of Avalon Road, were pictured with their toddlers Cael and Megan playing in Martin Park, west of Lawrence on Peterson Road. According to the caption, "several nature trails and improvements have been made at the park, but it remains largely wooded.... Lawrence park employees have just completed work on a series of stone steps leading to a picnic area near the top of one of the hills."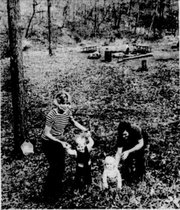 Copyright 2018 The Lawrence Journal-World. All rights reserved. This material may not be published, broadcast, rewritten or redistributed. We strive to uphold our values for every story published.