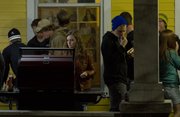 On the street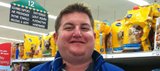 Chips. Probably Doritos.
It's a Friday night, and you see a young man dressed as a bottle of mustard. He's dancing on a front porch at 13th and Ohio, shouting something about hot dogs.
You're not sure what he wants, but he has your attention.
"My shtick is to be a little nuts. I like to be a little goofy," says Jordan Leroy Hanson. "On hot dog nights, when I wear the suit, I can be as goofy as possible."
If you are one of the hundreds of college students who will wander past 1320 Ohio tonight, you will probably see Hanson.
Hanson is a member of Campus Christians. On most Fridays the group of Kansas University students gather at the ministry's front porch and grill about 400 hot dogs. They hand them out for free to whoever wants one.
This particular Friday starts off slow. By 11 p.m., only a few college-age guys have heeded Hanson's call. They're sitting on the front porch, clutching beers and smoking cigarettes.
It's not exactly the cover shot of a campus ministry brochure, and that's kind of the point. Members of Campus Christians say they follow the traditional tenants of Christianity but strive to be open and inclusive.
"We're not here to be judgmental," says Scott Pixler, director of ministries for Campus Christians. "We just want to have a place where people can come."
The guys on the porch talk for a few minutes before moving on. No one has mentioned religion.
"They're here for a hot dog tonight, but maybe they'll be back tomorrow for something more," Pixler says. "And if not, that's OK too."
• • •
Though Christianity is still the dominate religion in the United States, it is on the decline. From 1990 to 2008, the number of adults who called themselves Christians fell from 87 percent to 76 percent, according to the 2009 American Religious Identification Survey.
Although a majority of young people still consider themselves religious, a 2010 study by the Pew Forum on Religion & Public Life found more than a quarter of 18- to 29-year-olds claimed no faith.
For KU students who aren't Christian, the face of the religion might be Topeka's Westboro Baptist Church or Jed Smock, a fire and brimstone preacher from Columbia, Mo., better known as "Brother Jed." Smock has been derided by KU students during his campus visits for saying things such as God created women to make babies and do housework.
Members of Campus Christians say hot dog night is about breaking down those stereotypes about Christians being intolerant.
"As Christians, we think that Jesus has called us to love our neighbor," said Heather Jackson, a minister with the group. "We're not handing out a tract, and we're not making them listen to a message. We're really just giving them something for free, and that's how we interpret grace — that it's absolutely free."
There are signs younger Christians tend to be more tolerant of other faiths than their peers. Researchers at the University of Warwick in the U.K. found that 13- to 15-year-old Christians were more likely than their nonreligious peers to support the right of Muslim classmates to wear religious garb in school.
At hot dog nights, some people can't believe the hot dogs are really no-strings-attached.
"They're just in complete shock that we're doing this out of the kindness of our hearts," said Richard McWherter, a KU student who helps out on Friday nights. "It's just really interesting to see people's reactions."
• • •
Just after 1:30 a.m., some of the Campus Christians start belting out Aerosmith's "I Don't Want to Miss a Thing," and Emily Freeman doesn't quite know why. She's never heard the song.
Back home, Freeman practices a religion indigenous to the mountainous region of Peru where she is from. She doesn't know much about Christianity but started hanging out with the Campus Christians a few weeks ago.
Freeman might not know the same songs or the same religious texts, but she knows she likes her new friends. They are people she needs right now; just a few weeks after moving to Kansas, she was diagnosed with leukemia.
Freeman picks up Fae, a small dog dressed in a ketchup costume. She's hot dog night's unofficial mascot.
"Fae's owner said if I lose my hair from my treatment, that she'll shave Fae and make me a wig," Freeman says, laughing. "I would have the coolest hair ever."
Things get busy after The Wagon Wheel Cafe, at 14th and Ohio streets, closes for the evening. Dozens of people come by for hot dogs. People who probably wouldn't hang out normally are talking and laughing. One young man uses his phone to show off pictures of his artwork. Another starts freestyle rapping to entertain the crowd.
Hanson, the Campus Christians member in the mustard suit, continues yelling "free hot dogs."
The last hot dog is given away just after 2 a.m. The lucky guys who snagged the last of them are appreciative, and start spinning puns in honor of the hot dog.
"Man, I'm going to have such a dog-over tomorrow," one says.
Copyright 2018 The Lawrence Journal-World. All rights reserved. This material may not be published, broadcast, rewritten or redistributed. We strive to uphold our values for every story published.