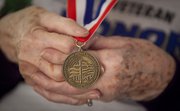 Honor flights
Brian Spencer has gone on more than a dozen Honor Flights. As Lyndon school district superintendent, he has also organized trips involving student guardians. Spencer thinks it would be great if there were an Honor Flight hub in Lawrence to help veterans make the trip.
Until then, he recommends those interested in contributing to the organization or making a trip to contact him at 785-828-3294. There are five hubs in Kansas, and the closest ones are in Lyndon and Holton. There is also a Kansas City, Mo., hub.
Each year, thousands of World War II veterans have the chance to visit the National World War II Memorial in Washington, D.C., thanks to the national Honor Flight Network.
But for Lawrence resident Edna Bremenkamp Poole, a recent Honor Flight allowed her to pay tribute to one World War II veteran in particular: her husband, who is interred at Arlington National Cemetery.
Last weekend, Poole, 93, her son Kevin Poole and 24 other veterans and their guardians took a whirlwind trip to Washington to see the national memorials and, in the words of Poole, be treated better than royalty.
"During the whole thing you felt you were honored. From the day you left to the day you got back," Poole said.
The Honor Flight Network was founded in 2005 on the hopes of bringing World War II vets to see the recently opened World War II Memorial. With World War II veterans dying at a rate of more than a 1,000 each day, according to the Honor Flight website, the organization wants to make sure every vet can see the memorial.
For the two-day trip Poole was on, the Grace Community Church in Overbrook raised more than $11,000 to cover the costs of the veterans' airfare and lodging. Guardians pay their own way.
"As a country, we were mighty late in honoring these guys," said Brian Spencer, who has been on more than a dozen honor flights and guided the group from Overbrook. "As a country we dropped the ball, and we are trying to pick it back up as best we can."
Poole is a World War II veteran who crossed both oceans in her five years of service. In 1942 at the age of 24, she enlisted as a nurse. The native of Colby already had two brothers serving, one in the Signal Corps and the other in the Navy.
"They needed nurses, so I enlisted," she said.
Her first tour of duty sent her to the remote Umnak Island, which during the war housed an Army Air Force base in the Aleutian archipelago. In 1944, she was assigned to a field hospital attached to Gen. George Patton's army in Europe, where she served until the war ended. The field hospital was housed in tents, which didn't have the best lighting.
"When you got ready to do an IV you had to be good," Poole said with a chuckle.
After the war, she stayed in Germany caring for patients who couldn't yet travel. She later was stationed in France near the Spanish border and had the chance to travel.
When Poole was discharged in 1947, she returned to Colby, where she worked at a doctor's office. Compared with her experience during the war, the job was a simple one, she said. Her nursing career lasted for more than 40 years.
"Medicine itself learned at lot during the war," she said.
It was in Colby where she crossed paths with Rufus Poole, a deep-sea diver and Navy veteran who was visiting a buddy who happened to be her neighbor. They married, remained in Colby and had two children.
A visit to Arlington
Thirty years ago, the Pooles took a trip to Washington, D.C. Among the places the couple visited were the rolling hills of the Arlington National Cemetery. The two were impressed with the well-kept burial grounds. When Rufus Poole died in 1985, the family sent his cremated remains there.
While Edna Poole's children have visited the World War II Memorial, she hadn't done so. Kevin Poole said as his mother grew older she was having trouble walking and knew a trip to Arlington National Cemetery needed to happen soon. The Honor Flight and the assistance it provided seemed to be a great way to bring her to D.C.
"I was interested in it as soon as I learned about it," Poole said. "You get to tour Arlington, and I hadn't gone there when my husband died."
Many of the Honor Flights out of Kansas don't include an overnight stay in D.C. But because this trip did, the organizers were able to tack on a visit to Arlington National Cemetery.
It was there that Spencer, who is a board member of the national Honor Flight Network, began to track down Rufus Poole's ashes. He asked Poole if she would like to visit her husband's final resting place.
"She said if 'I could see that, it would be the best thing in the world,' " Spencer said.
At first, cemetery staff directed them to a Rufus Poole who was buried not too far from where the group was watching the Changing of the Guard ceremony. But that turned out to be the grave of a Civil War veteran.
"I was afraid I'd break the dear lady's heart," Spencer said of having too deliver the news to Poole.
Then they realized that because Rufus Poole was cremated, his memorial marker would be in the part of the cemetery that housed the columbarium. As the rest of the group visited a memorial to female veterans at the cemetery, Edna and Kevin Poole and Spencer took a taxi cab to the columbarium to see Rufus Poole's marker.
"It was the highlight of the trip," Spencer said.
'Rock star' status
While the visit to Arlington was what drew Poole to the Honor Flight, she cites the experience — from the moment she got on the bus at 3 a.m. in Overbrook — as a highlight.
What mattered most to his mother and other veterans, Kevin Poole noted, was the recognition they received for their service.
"It's like you're a rock star," he said.
On the way to D.C., the pilot made sure to alert passengers that special guests were onboard. When the Honor Flight landed, a fire truck sprayed water in the air to honor the arriving dignitaries. A man was playing a trumpet as they walked into the airport terminal and others were waving flags and cheering.
"When they get off the plane and hear the clapping, they are looking around to see who the important people are. Then they realize it is for them," Spencer said of the veterans' reactions. "The old guys begin marching pretty straight. And they go back to being 25-year-old soldiers for just a little while."
At the World War II monument, the veterans were given medals, posed for pictures and shook hands with former U.S. Sen. Elizabeth Dole. Her husband, former U.S. Sen. Bob Dole, usually greets the veterans, but he had medical appointments that day.
Other small details made the veterans feel important as they toured the monuments of the city, Poole said. There were always folks waiting to help them onto and out of buses. They had wheel chairs for those who needed them and meals at the ready.
"I would recommend this trip to every veteran," she said. "It's an indescribable honor to go."
Copyright 2018 The Lawrence Journal-World. All rights reserved. This material may not be published, broadcast, rewritten or redistributed. We strive to uphold our values for every story published.