Photo Gallery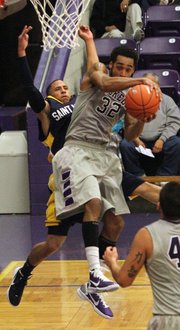 Haskell men's basketball vs. St. Mary's
The Haskell men did everything they wanted to in the first half, but a poor showing in the second half left the team unsatisfied.
"We got comfortable," senior Brady Fairbanks said. "We got content with the basketball, and we started turning it over."
The Indians had 19 turnovers in a game in which they at one point had a 23-point lead.
In the second half, that lead began to shrink by the minute as the Spires took advantage of Indian miscues and defensive lapses.
Coach Chad Kills Crow said Haskell's inexperience showed.
"I think St. Mary put pressure on us," he said, "but overall, we were doing it to ourselves."
The Spires came within seven with 2:30 left to go, but the Indians made enough stops and offensive plays to win.
Fairbanks led the Fightin' Indians with 26 points while adding nine rebounds. Junior Jonn Garrick had an 11-point, 13-rebound double-double, and junior Joe Thompson added 13 points and four rebounds.
Not knowing how to handle certain situations, Kills Crow said, Haskell was prone to errors it will correct with experience.
Kills Crow likes what Haskell is capable of achieving.
"I don't schedule lightly, and that's for a reason," he said.
Haskell (2-3) has a scary schedule — playing the Nos. 1, 4, 11, 12 and 19 teams — but Kills Crow likes going on the road and shocking the hosts who think the game will be an easy victory.
"We'll see where we end up in the end," he said. "But we're a good team. We have the potential to be a great team."
Copyright 2018 The Lawrence Journal-World. All rights reserved. This material may not be published, broadcast, rewritten or redistributed. We strive to uphold our values for every story published.