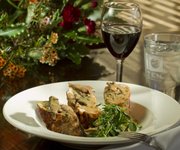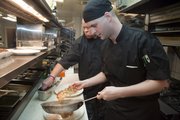 If you want to save money by stocking your deep freeze with turkeys while they're on sale, there are plenty of ways to make the bird fit for a litany of meals without feeling like you're eating the same thing over and over and over again.
All you need are some discounted birds and a bit of creativity.
"Don't be intimidated by the turkey," says Ken Baker, proprietor and executive chef at Pachamama's, 800 N.H. "It is like a wide canvas that is usually very forgiving. Especially if you don't try to coax too much out of it. One can be adventurous, and be simple at the same time. Just a few brush strokes of flavor can elevate the lowly, bland-dry turkey to great heights."
Case in point: The "turducken" burger, Baker has been known to serve at Pachamama's. Like it's name same — a chicken inside a duck inside a turkey — it's a mix of three birds for one decadent dinner that won't make you think of Grandma's roast turkey. And that's the point, says Baker, who suggests investing in different types of turkey, rather than just buying a couple of the exact same kind.
"Ground duck stuffed with shredded smoked turkey, and crispy chicken skin as bacon," he says of the menu specialty. "Turkey is actually very versatile, especially when you are dealing with heritage breeds instead of the hormone-laden supermarket creations. The heritage breeds have intense flavor properties, and lend themselves to a wider variety of preparations. For example: one could use turkey in place of chicken or pork in almost any recipe. Stews and soups immediately come to mind, because the bones make such a flavorful stock. At the same time substituting turkey for almost any chicken or pork recipe could be successful. Whether we are talking tacos, a pot pie, or pasta. I love to pound out turkey breast slices to make an awesome schnitzel. Also turkey lends itself to a complexly flavored mole poblano."
Other unexpected treatments for turkey include an Asian and various "sweet" preparations, he says.
"I've been digging on turkey used in Southeast Asian soups and noodle preparation — think ginger, lemongrass, chilies, lime leaves, and curry. Fish sauce is another that comes to mind, or turkey with a tuna mayonnaise called tonnatto, traditionally served with cold veal," Baker says. "In the U.S., turkey is commonly served with sweet components like cranberry 'sauce.' That type of savory-sweet pairing opens all kinds of doors to fruit chutneys, apple sauce made with smoked apples, and BBQ sauces that lean towards the sweeter side. I think the mole I mentioned before fits this philosophy as well. It has multiple chilies, fruits, nuts, aromatic vegetables, spices and chocolate."
Todd Schneekloth, the recently appointed executive chef at The Eldridge, 701 Mass., agrees that the sky's the limit when playing around with turkey. He says you can go with traditional flavors — like throwing fresh cranberries in homemade turkey burgers — or play with the savory side of the meat. For example, he thinks an omelet with turkey, goat cheese and asparagus would make a great breakfast. He also likes the idea of turkey with mushrooms and Swiss chard, and included those ingredients in a roulade recipe for Lawrence.com and Lawrence Journal-World readers.
Both chefs said that while frying has become popular of late, brining is a becoming the go-to "new" preparation for turkey in the restaurant business. Baker says if he's using a non-heritage turkey (in other words, your normal, store-bought turkey) he'll brine it. While, Schneekloth says he likes the method specifically for the flavor it adds to anything.
"We just started brining our ribs. And I know there are a lot of brining recipes out for turkey also," says Schneekloth, who came to the Eldridge last month from Florida, and who will be helming the hotel's yearly Thanksgiving buffet, which he hopes will see around 700 diners this year. "I like to put some citrus in it — orange, lemon and lime ... just to make it more tender."
As any turkey lover knows, tenderness is of huge importance. Schneekloth says that overdoing it is the biggest enemy to turkey moistness, store-bought or otherwise.
"Don't overcook it, that's the first and foremost," he says, adding that some preparations — like burgers or sausage, might need an additional fat to stay moist. "And, also, rest your meat — which applies to all proteins — it just gives it time to settle."
If you aren't so sure you want to honor the turducken with your own homemade turducken burger or go wild with pairing more exotic flavors with your sale-bought turkey, that's fine, but you also don't have to settle for turkey deja vu either. Baker says that if you plan to use, break up a full bird and use its parts for different applications, yet you want to stock up while the sales are good, to take the time to portion a bird or two out for out-of-the-box uses.
"If someone intends to use the turkey in multiple applications, I suggest breaking down the turkey into portions before freezing," says Baker, who adds one of his all-time favorite meals featured smoked turkey with collard greens, cheddar grits and apple sauce as a child. "Absolutely use the bones for stock. I feel that the thighs and legs make a better soup, or brined, smoked and pulled. The breast is large and can be cut into more manageable portions for freezing. The breast meat is best prepared simply — as in roasting, pan frying and smoking. The giblets make great sauces, or can be slowly and gently cooked in rendered fat for a special treat."
And if you're cooking the whole thing a la Grandma? Rather than fighting a dry bird every time, Baker suggests making things easy on yourself and your turkey baster.
"The breast and legs do not cook evenly, hence the dryness of the breast," Baker says. "If they are separated before cooking, or the back bone is removed, and the turkey butterflied, the result will be more even-juicy cooking."
Recipes
Roasted Turkey Roulade
2 cups wild mushrooms
4 ounces minced shallots
4 ounces minced garlic
6 bundles Swiss chard
3 ounces diced bacon
6 ounces cubed butter
3 ounces fresh herbs
1 quart chicken stock
1 boneless turkey breast half
Add diced bacon to hot saucepan. Brown the bacon and remove, setting aside for later. In the same saucepan, add garlic and shallots. Cook until translucent. Next, add wild mushrooms. Season with salt and pepper, taking care to stir often. Once the mushrooms have released their juices (2 to 3 minutes, usually), add the Swiss chard and cook for another 2 minutes. Then add your browned bacon. Let cool while you work on the turkey.
Place the turkey breast on a clean cutting board. Cut down the center, so that the breast opens to one flat piece. Cover the turkey with plastic wrap and pound to an even thickness with a mallet. Remove plastic and top with the mushroom, shallot and bacon mixture. Wrap tootsie-roll style with butcher twine. Pan sear in a roasting pan until all sides are brown. Add chicken stock to the roasting pan and bake in a 375-degree oven for 1 hour to 90 minutes, or until internal temperature is 155 degrees.
Let the roulade rest for 10 minutes. Cut into half-inch pieces and serve with juices from the roasting pot.
— Recipes from Todd Schneekloth, executive chef at The Eldridge, 701 Mass.
Turkey Sloppy Janes
1 yellow onion, chopped
1 green bell pepper, chopped
3 tablespoons no-salt-added tomato paste
1 cup grated carrots (from 1 large carrot)
3/4 pound ground turkey breast
1 (15-ounce) can no-salt-added tomato sauce
1/2 cup chopped pitted dates (about 5 dates)
4 teaspoons balsamic vinegar
5 teaspoons yellow mustard
Heat a large skillet over medium-high heat. Add onion and pepper and cook until starting to stick and lightly brown, stirring frequently, 4 to 5 minutes. Stir in tomato paste, carrots and 2 tablespoons water and cook 2 minutes longer or until carrots are tender, stirring occasionally and scraping any browned bits from the surface of the pan. Add turkey and cook 3 minutes or until turkey is no longer pink, stirring to break it up as it cooks. Stir in tomato sauce, dates, vinegar, mustard and 1/2 cup water and bring to a boil. Reduce heat to low, cover and simmer 15 minutes to blend flavors. Serves four.
— Recipe from www.wholefoodsmarket.com
Italian Turkey Strata
No-stick cooking spray
1 loaf (8 ounces) French bread, sliced, cut into 1-inch chunks, divided
2 cups chopped, leftover cooked turkey, divided
1 can (14 ounces) artichoke hearts, drained, coarsely chopped, divided
1/2 cup sun-dried tomatoes packed in oil, drained well, finely chopped, divided
2 cups (8 ounces) shredded mozzarella cheese, divided
8 eggs, beaten
2 cups milk
1 teaspoon dried oregano leaves
Spray 13 by 9-inch baking dish with cooking spray. Layer half of the bread in prepared dish. Sprinkle with half of the turkey, artichokes, tomatoes and cheese.
Combine eggs, milk and oregano in large measuring cup or bowl. Mix until combined. Pour evenly over bread mixture. Cover with foil and refrigerate 8 hours or overnight.
Preheat oven to 350 degrees. Bake casserole covered 30 minutes. Remove cover; continue baking uncovered 15 minutes, or until knife inserted in center comes out clean. Let stand 10 minutes before serving. Serves eight.
— Recipe from www.butterball.com
Turkey Tortilla Pizzas
1 teaspoon chili powder
1 teaspoon ground cumin
1 teaspoon garlic powder
1 teaspoon dried oregano leaves
1/4 teaspoon ground red pepper
2 cups cooked turkey, cut into julienne strips
5 tablespoons olive oil, divided
1 medium red bell pepper, cut into julienne strips
1 medium yellow bell pepper, cut into julienne strips
1 medium onion, cut into 1/4-inch wedges
6 (8-inch) flour tortillas
2 cups shredded cheddar cheese
4 large plum tomatoes, seeded and chopped
1/4 cup chopped fresh cilantro
Preheat oven 375 degrees.
Combine the chili powder, cumin, garlic powder, oregano, and cayenne in a medium bowl, mixing well. Add the turkey strips, toss to coat. Drizzle 1 tablespoon of the olive oil evenly over turkey strips and set aside.
Heat 2 tablespoons of the olive oil in a large skillet on medium-high heat. Add the pepper strips and onion and cook 5 to 7 minutes or until tender, stirring frequently. Add the turkey mixture. Cook 2 minutes. Remove from heat and set aside.
Brush the tortillas lightly on one side with the remaining 2 tablespoons olive oil. Place the tortillas, oil-side up, on baking sheets. Bake until just beginning to crisp, about 5 minutes.
Remove the tortillas from the oven and sprinkle evenly with the cheese. Arrange equal amounts of the turkey mixture over each tortilla. Top with equal amounts of the tomatoes and cilantro.
Bake 10 minutes or until the cheese has melted and the tops are beginning to brown lightly. Cut each tortilla into six wedges. Serves 18.
— Recipe from www.butterball.com
Honey and Rosemary Brined Turkey with Herb Riesling Gravy
For the Brine
4 cups water
3/4 cup kosher salt
1/2 cup honey
32 ounces low-sodium chicken broth
1 tablespoon black peppercorns
6 to 8 sprigs fresh rosemary
1 (12- to 14-pound) fresh turkey, neck and giblets removed and reserved (discard liver)
For Roasting the Turkey
1/2 small onion, peeled and cut in half
1 small Fuji or Honeycrisp apple, quartered
1 bulb garlic, halved
4 sprigs rosemary
1/3 cup canola oil
For the Gravy
1 tablespoon extra-virgin olive oil
Reserved turkey neck and giblets
1 medium yellow onion, unpeeled and chopped
1 carrot, unpeeled and diced
3 cups low-sodium chicken broth
1 cup Riesling
3 tablespoons unsalted butter, at room temperature
1/4 cup flour
1/4 cup flat-leaf parsley, finely chopped
2 stems rosemary, leaves removed and finely chopped
3 sprigs fresh thyme, leaves removed and finely chopped
For the brine, bring water to a boil in a saucepan. Add salt, honey, broth, peppercorns and rosemary in a saucepan and bring to a boil, stirring to dissolve salt. Cool at room temperature, then refrigerate until needed.
About 6 to 8 hours before you plan to roast your turkey, place brine mixture in a large clean bucket, stock pot or cooler and stir in 1 gallon of ice water. Place turkey in the bucket, breast side down, cover and refrigerate 6 to 8 hours or overnight. Make sure the turkey is fully submerged, adding more ice water if necessary.
To roast the turkey, preheat oven to 450 degrees. Remove turkey from brine and rinse thoroughly, inside and out, with cool water; pat dry. Discard brine solution. Season turkey cavity with salt and pepper. Stuff turkey with onion, apple, garlic and rosemary. Place on a roasting rack and set inside a large roasting pan and tuck the wings back. Brush the entire turkey with oil.
Cover breast portion with foil and place turkey on lowest rack in oven and roast 30 minutes, then turn heat down to 350 degrees and roast 2 to 2-1/2 hours longer, until a thermometer reads 165 degrees when inserted between the breast and thigh without touching the bone. Remove foil from breast about 45 minutes before the turkey is done. Remove turkey from pan, place on a platter and tent with foil. Let the turkey rest 20 minutes before carving.
For the gravy, heat oil in a large saucepan over medium heat. Add turkey neck and giblets, onions and carrots and cook until lightly browned, about 5 minutes. Add broth, bring to a boil, then turn down to a simmer and cook 30 minutes. Strain, discarding the solids, and refrigerate broth until ready to use.
While turkey rests, pour pan drippings into a measuring cup and freeze for 15 minutes. Skim off any fat. Heat roasting pan over medium heat and add Riesling, scraping up any browned bits. Pour in giblet broth and skimmed pan drippings and bring to a simmer over medium-high heat. Whisk in butter until melted, then whisk in flour. Cook until thickened, stirring constantly to avoid lumps. Stir in chopped herbs and add salt and pepper to taste. Serves 8 to 10.
— Recipe from www.wholefoodsmarket.com
Fajita Turkey Burgers
1 pound ground turkey breast
1 egg white
1/2 cup Mexican-style four-cheese blend, divided
1/2 cup medium salsa, divided
4 onion slices, 1/4 inch thick
1 green pepper, cut into 4 wedges
4 multi-grain hamburger buns
Heat greased grill to medium heat.
Mix turkey, egg white and 1/4 cup each cheese and salsa; shape into 4 (1/2-inch-thick) patties.
Grill patties and vegetables 5 to 6 minutes on each side or until burgers are done (165 degrees) and vegetables are crisp-tender.
Combine remaining cheese and salsa. Serve burgers in buns topped with vegetables and cheese mixture.
— Recipe from www.kraftrecipes.com
Copyright 2018 The Lawrence Journal-World. All rights reserved. This material may not be published, broadcast, rewritten or redistributed. We strive to uphold our values for every story published.