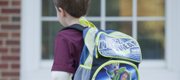 Subscribe to the email edition of First Bell and we'll deliver you the latest local education news and notes every weekday at noon.
Visitors to a new wax museum won't get a chance to sidle up to pop, sports or political icons like Beyonce, David Beckham or President Obama.
Try a real-life version of Marie Curie, two-time Nobel Prize winner.
Visitors today to Deerfield School will be able to learn from eight scientists, inventors and esteemed thinkers whose work has shaped society — personalities to be reflected and recreated through student depictions in the school's annual "wax museum."
In all, 85 students will depict different portions of the lives of the eight scientists during three rotations: 1 p.m. to 1:30 p.m., 1:45 p.m. to 2:15 p.m., and 2:30 p.m. to 3 p.m.
In the wax museum, each student portrays a portion of a scientists' life, including important facts and accomplishments. The students will be in costume, and provide a file folder filled with background information and a poem.
The wax museum will be in the library at the school, 101 Lawrence Ave., and folks are invited to drop by and learn from the students who, themselves, are learning physical science.
Scientists lined up for the wax treatment, with descriptions provided by teacher Diana Bailey:
• Galileo Galilei, 1564-1642, physicist, astronomer, founder of modern science.
• Robert Boyle, 1627-1691, Boyle's Law squeezing gas into smaller place raises pressure, air pump.
• Issac Newton, 1642-1727, Three Laws of Motion, prism.
• Michael Faraday, 1791-1867, electricity can be generated.
• Marie Curie, 1867-1934, radioactivity (measured in curies), Nobel Prizes (physics in 1903, and chemistry in 1911).
• Lise Meitner, 1878-1968, nuclear fission-split uranium, nuclear reactor.
• Albert Einstein, 1879-1955, relativity, Nobel Prize.
• Benjamin Banneker, 1731-1806, constructed first American clock, designed District of Columbia.
•••
Next week will be U.S. International Education Week in Lawrence, and if you don't believe me, talk to the mayor.
Mayor Aron Cromwell is scheduled to issue a proclamation declaring Monday through Nov. 18 as said week in Lawrence, "and urge all citizens to join in this observance."
The proclamation includes four "Whereas" sections, outlining the background for the proclamation: that international education is key in "building and strengthening mutual understanding with our neighbors around the globe"; that local, state and national governments are celebrating the week; that international education provide "public diplomacy" that plays a "critical role" in U.S. foreign relations; and that some 7,000 students from abroad are studying in Kansas, and that more than 1,000 Kansans will studying abroad this year.
You can read the entire proclamation here, or stop by to hear Cromwell read it in person during tonight's Lawrence City Commission meeting, set to begin at 6:35 at City Hall, Sixth and Massachusetts streets.
•••
Folks interested in identifying the nuances separating data, facts and opinions are invited to hear an expert from Kansas University discuss the topic during a "science cafe" tonight at Free State Brewery, 636 Mass.
Janis Bulgren, an assistant research professor at the KU Center for Research on Learning, is scheduled to lead a conversation about current research on preparing students to engage in argumentation — the ability to drawn proper conclusions from often conflicting information.
Event organizers say the research aims to help students better acquire higher-order reasoning in science, technology, engineering and math, and extend that thinking to other subjects or real-world issues.
The discussion is set to run from 7:30 p.m. to 9 p.m., although folks can show up early to grab dinner or a drink.
For more information, call 864.4450 or email naturalhistory@ku.edu.
Copyright 2018 The Lawrence Journal-World. All rights reserved. This material may not be published, broadcast, rewritten or redistributed. We strive to uphold our values for every story published.