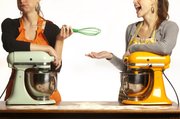 'Tis the season for dinners, parties and other get-togethers of a festive nature. Homes of all sizes will be full of cheer, revelry and, well, people.
Lots and lots of people.
And, if you happen to be the party host, chances are a few of those people might spill into the kitchen, looking to help.
Friends, kids, mother-in-laws, grandmas and — gasp — full-grown men love to do what they can in the kitchen. Which is nice and thoughtful of them and all, but sometimes it can be a bit … much.
Though an extra pair of hands can really be useful while preparing for everything from a cocktail party to a feast, too many hands (or the wrong ones) can turn efficient party prep into a crowded, sloppy and potentially dangerous affair.
But it's the holidays, after all, and it's not in the spirit to shove good Samaritans away from the stove with oven-mitted palms. Instead, use them, or at least make the best of all those extra hands. We talked with a few professional chefs about what sort of solutions they find when extra elves crowd the counter.
Make sure someone's at the helm
Your mother-in-law or grandma may have hosted Thanksgiving for 30 years, but if she's your guest this year, don't give up your ground.
"In my opinion, somebody has to be the boss of the kitchen. It can't just be a free-for-all because nothing gets done," says Nancy Stark, a Kansas City chef who teaches classes at The Merc, 901 Iowa. She says that she's never been in the position to fight with Grandma over control of the kitchen but that clearly respect plays a big part.
"That's a tough one because if you say, 'Come into the kitchen and help me,' there's going to be the issue of who's the boss."
Stark says though she doesn't have experience, a good solution might having the longtime host bring a beloved meal staple. That way, you kill two turkeys with one stone.
"I would say have her make her one signature dish," Stark says. "A lot of times when someone new wants to cook the dinner, they also want to introduce new items on the menu besides what they've always had, and that can be a problem in itself. I mean, sometimes people go on a mutiny when they don't get what they always had."
Assess kitchen comfort
It's not so hard to scope how much kitchen experience a battle-tested grandma might have, but friends, distant relatives and even grown children might be somewhat harder to gauge. So, no matter who wants to help, first get a sense of their familiarity, says Hilary Kass, owner of Ancient Grains Bakery and also a cooking class teacher at The Merc.
"Everyone has kind of a different level of comfort in the kitchen," says Kass, who welcomes all skill levels to her kitchen. "I really enjoy getting anyone to help who wants to help because I'm always wanting to give people an opportunity to learn."
Stark says it's helpful to look at the menu for your party or feast or holiday and figure out exactly what tasks you need to do yourself and what can be doled out.
"If I know there's going to be people working with me in my kitchen, almost no matter who they are, I'll kind of think through what all the tasks are and I'll think (about) what things I absolutely have to do myself so that they won't get destroyed and what things have more wiggle room and that aren't so exacting."
Stark suggests tasks like stuffing small items, wrapping phyllo dough or putting cheese on crostini.
"There are a lot of things that it seems like you're really helping a whole lot, when actually it's just sort of tedious, but you have to get it done," she says, before laughing, "It will keep them busy for a long time."
Have appetizers and activities ready to go
If you don't think you can handle anyone in the kitchen with you, or maybe you don't have room for anyone to help, make sure you can keep guests busy and satiated while they wait. Take the time to prepare some snacks and drinks, maybe put on some holiday music or get the big game on the screen to make sure folks can stay occupied and full enough to avoid them wandering into the cooking zone to graze.
Bond over baking
A full kitchen can be stressful, but it's worth it if the situation works for you. Friends and family can only become closer while spending time helping to prepare a meal, says Kass. She says her family takes care so that everyone is able to help, no matter whether they're in Lawrence or at either of her two daughters' Chicago abodes.
"Since we don't see each other very much, over the holidays, that's what you do, the way to be together in one space is to do cooking stuff together," she says, adding that her 20-something daughters are just now getting into the kitchen themselves. "I ask them what they want — 'What do you want to make?' — and get everything they need, to give them some ownership, rather than telling them what they can do to help."
She says this is how the family ended up with a strange Christmas tradition — ribs for breakfast. That came about after letting her husband and her daughter's fiancé go wild in the kitchen. She says this is another form of kitchen bonding — allowing for all types of eating styles with accommodation and acceptance and education.
"It's nice because I'm the nutrition girl, eating whole wheat and fruit, and they're eating ribs," she says, laughing. "I do love that kind of aspect to share with people — not making anybody's food preferences a big deal, but just accommodating them. I don't want to eat ribs for breakfast."
Not sure what to do?
There's always the old napkins-and-plates special.
"There's setting the table, no one needs me to tell them that," Stark says of busywork chores, laughing.
Your guests might not think this duty is as fun or helpful as doing actual kitchen work, but they probably won't mind. Plus, if there are adults and kids in the mix, it's the type of chore that can turn into a lesson. That should free up some space and time for you to put the finishing touches on dishes, or adjust anything that wasn't done just right by your extra hands.
Copyright 2018 The Lawrence Journal-World. All rights reserved. This material may not be published, broadcast, rewritten or redistributed. We strive to uphold our values for every story published.