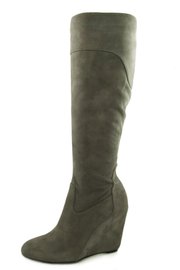 New York — There's fall and spring, winter and summer — and there's boot season. For many fashion fans, that's the best time of year.
Time to break out the cowboy boots and jeans, riding boots and leggings and maybe your best black work trousers and those cute high-heel booties you bought last year.
They're all easy, almost no-fail pairings. Finding the right skirt to go with boots, however, is more likely to trip you up, especially this particular season when it seems anything goes with hemlines.
Do long skirts get tall shafts or shorter ones? What's the rule on miniskirts? And can functional weather-friendly boots meet a fashion-forward midiskirt somewhere on the middle of the calf?
"Boots can do it better than almost anything when it comes to pulling your look together, but it also can cut you up," says celebrity stylist Cristina Ehrlich.
She adds: "You have to put your outfit on. If your eye goes straight for the foot, then something isn't right. You want a full 'look.'"
Since proportion matters, she suggests every outfit get the mirror test because what works for one skirt might not for the next, even if they're similar styles.
It's all about lines. You don't really want the top of the boot to meet the hemline; it could be longer or shorter — and filled in, when needed, with opaque tights, says Jen Ford, fashion news director at Lucky magazine.
Ehrlich, a style spokeswoman for Via Spiga, says the most foolproof boot choice is a to-the-knee shaft and a wedge heel, probably in black suede. But, she adds, you'd be surprised how easy it is to incorporate a dark purple, bottle green or gray suede into an existing wardrobe, even one rooted in black.
With a two- or three-inch heel, there's really not an outfit you can't wear with these boots. She'd put them on in September and not take them off until April — and that's traveling to different places and climates.
Copyright 2017 The Associated Press. All rights reserved. This material may not be published, broadcast, rewritten or redistributed. We strive to uphold our values for every story published.