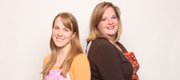 The first ingredient the Delicious/Nutritious cooks will tackle: sweet potatoes, just in time for Thanksgiving dinner planning.
If you've ever read any of my blogs on Lawrence.com, chances are you've figured out by now that I'm sort of a health nut.
Oh, I like to ogle over sweet treats and greasy vittles any old day (I am a food writer, after all — drooling is in the job description), but when it comes to cooking at home, I try to keep things pretty nutritious.
On the other hand, my friend Megan Stuke, of Lawrence.com's longtime foodie blog The Flying Fork, is all about flavor. If you've tried your hand at any of Megan's delicious recipes, you know they don't want for taste. Her recipes are amazing: buttery, ooey-gooey and, just, well, RICH.
And very different from mine.
I tend to stuff an entire USDA veggie pyramid piece onto a single dinner plate. There's nothing buttery or ooey-gooey about pretty much anything I do. Kale isn't a four-letter word in my kitchen, if you know what I mean.
So, to sum up, the two of us are generally continents apart on the home culinary spectrum — and this, my friends, is to your advantage. Because we want to offer you the best of both worlds.
Megan and I are collaborating on a new Go! feature called Delicious/Nutritious. Basically, we're each doing our own take on a recipe, ingredient or idea and then putting the finished products in the same monthly column. The first of those columns will run next week, with Megan and me riffing on a Thanksgiving staple (no, not turkey).
Now, though the column is called Delicious/Nutritious, that's not to suggest that either recipe will be entirely devoid of one of those adjectives. Megan's recipes might be more nutritious than you think at first glance, and mine will (hopefully) have some factor of deliciousness to them.
Of course, we know that Go! has a diverse readership with interests and preferences so wide they'd span the Kaw lengthwise. So, this is our little project to help out at least two camps and give choice to those who might fall somewhere in the vast middle bracketed by the calories-to-the-wind gourmets and people who like kale even more than I do (though I'm not sure how that's even possible).
We're open for your ideas, suggestions and comments and would love to hear what you think we should make each month. Feel free to email me at sarah@lawrence.com with suggestions, and I'll pass along your comments to Megan as well.
See you next week!
Copyright 2018 The Lawrence Journal-World. All rights reserved. This material may not be published, broadcast, rewritten or redistributed. We strive to uphold our values for every story published.