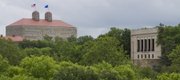 Subscribe to the email edition of Heard on the Hill and we'll deliver you the latest KU news and notes every weekday at noon.
• Is the well-publicized, zipper-busting "freshman 15" pounds added by a typical college freshman more of a myth than reality? That's what a new Ohio State study has found, according to the The Columbus Dispatch has found (I found this tidbit via the Chronicle of Higher Education).
An Ohio State researcher did a national study, and said that it should be more like the "freshman three."
The highest 5 percent of weight-gainers did put on about 18 pounds during college, but a quarter of the students actually lost weight.
I regularly hear the "freshman 15" bandied about in a wide variety of sources (there's even a freshman15.com), so it would be rather interesting to me if the whole thing were complete bunk.
(For what it's worth, KU's Watkins Health Center dietician told this fine publication way back in 2004 — in a story that turned up in a Google search I did on the topic — that she wasn't sure that 15 pounds was an accurate number either).
• Thanks to a Heard on the Hill tipster and fan who told me about the recent successes of two of his law school mates at the recent 30th annual John Marshall Moot Court Competition in Information Technology and Privacy Law in Chicago this past weekend.
KU law school students Nate Lindsey and Christopher Omlid won the competition and the Best Petitioner's Brief award, my tipster reports, adding that Nate was just two points from winning Best Oralist, which would have been a KU sweep of the awards.
He also points to a blog with results and photos.
• I also heard word that Genaro Mendez, associate professor of voice and opera, must have been practicing, practicing, practicing, because he'll be making his Carnegie Hall debut on Friday, performing in a series of opera shorts with the Remarkable Theater Brigade company.
This is cool, because, well, Genaro Mendez is awesome. In recent years, he's become something of a staple at official university ceremonies of all sorts. I still remember his rendition of "Amazing Grace" at the inauguration of Bernadette Gray-Little in April 2010.
KU apparently also thought the performance was awesome, and posted a video of it to YouTube, which you can watch here if you missed it the first time.
• I've spent the last two days in Olathe at Kansas Bioscience Authority meetings, in the happy land of complicated graphs. ("Get that blue line outta there," offered one rather exasperated board member this week). Your tips for Heard on the Hill will bring me back to reality, if you'd be so kind as to send them to ahyland@ljworld.com.
Copyright 2018 The Lawrence Journal-World. All rights reserved. This material may not be published, broadcast, rewritten or redistributed. We strive to uphold our values for every story published.