News and notes from around Lawrence: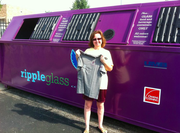 • Get ready for more purple in Lawrence. No, the hordes of K-State fans who filled Memorial Stadium recently didn't find Lawrence so hospitable that they've decided to set up a new alumni office or anything like that. Instead, it is a Kansas City company that is betting Lawrence will be hospitable — to the idea of glass recycling. Ripple Glass is close to signing an agreement that will allow the company to install at least four of their large purple containers around the city to start a new glass recycling program. The Kansas City-based firm uses recycled glass to make fiberglass insulation. City commissioners at their meeting tonight are set to approve an agreement that will create a partnership between the city and Ripple Glass. Under the proposed agreement, Ripple will provide the four containers (did I mention that they're purple), and city crews will empty them and take them to a yet-to-be-constructed "bunker" on city property. The glass will be stored there until the bunker fills up, at which time Ripple will send a truck over to haul the glass back to its Kansas City plant. Sites for the four glass recycling bins haven't been determined yet. It will be interesting to see where they land, and also whether the program adds some new twists over time. There has certainly been interest among some city commissioners to get a program started that would place glass recycling bins in the alleys of Downtown Lawrence. With those bins in place, the city would then make a major effort to get downtown bars to start recycling their glass beer bottles instead of throwing them in the trash. Take a walk down an alley on trash day and listen to all the tinkling of glass bottles as the Dumpsters are lifted. It sounds like a drunken bell choir. The city is estimating that it will have about $9,000 in start-up costs to build the bunker, and a few monthly expenses in personnel and fuel to empty the containers. The city received one other proposal — from Lawrence-based 12th and Haskell Recycle Center — but that company was proposing the city provide the glass collection containers at a cost of about $65,000.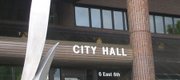 Subscribe to the email edition of Town Talk and we'll deliver you the latest city news and notes every weekday at noon.
• Speaking of purple, the folks in Manhattan — as you may know — have a different type of police force than in Lawrence. Instead of having a city police force and a sheriff's office, law enforcement in Riley County is consolidated. There hasn't been any serious talk of that type of consolidation effort in Douglas County, but for awhile it looked like there was at least the possibility that the subject could be broached. That looks less likely now. Lawrence city commissioners, at their meeting tonight, are expected to begin advertising for a consultant to help develop a plan for what type of facilities the police department will need in the future. When City Manager David Corliss suggested such a plan earlier this year, he said that the county's sheriff's department and the Kansas University police force may want to join in on the study to see if having a joint facility would make law enforcement more efficient. And who know, such an exploration may lead to talk on others ways the agencies could improve efficiencies. But a staff memo prepared for city commissioners reports that other law enforcement agencies were contacted about participating in the study, but none has shown an interest. So the city will go it alone because there is growing concern at City Hall that their current facility situation is inadequate. Some of the city's police force is house at the Judicial and Law Enforcement Center at 11th and New Hampshire, but a large part of the force has its headquarters at a city-owned building near Bob Billings Parkway and Wakarusa Drive. Who knows what the study will end up recommending, but there has been some speculation that the city could pursue building a new law enforcement center near the 19th and Iowa Street area, which is where its headquarters for Douglas County Fire & Medical are. Keep any eye open to see if this study — which is expected to cost between $30,000 and $40,000 — will get the ball rolling on that.
• While you're keeping one eye open for that, keep your other eye open for a new restaurant at 724 Mass., which is the former Jo Shmo's restaurant and bar. My understanding is that a lease has been signed for the space and that the location will continue to be used as a restaurant. I haven't gotten more detailed information on what type of restaurant, but once I do, I'll pass it along.
• I also hear that there are new signs of life for a long vacant East Hills Business Park building. As we previously reported, Plastikon Industries at about this time last year chose Lawrence for a new plant to manufacture plastic vials for the health care industry. The company bought the former Serologicals building in East Hills, which sat empty for years after that high-tech drug company changed courses. Well, you haven't' heard much about Plastikon since, but the company has been renovating the site. Now it has 25 employees, and I hear that it is set to begin production in another one to two weeks. That should lead to more employees. The company — when it received about $63,000 in local incentives — told the city and county that it expected to have about 50 employees during its first year of production, and about 125 after three years of operations.
• Hopefully, you'll keep your eyes and ears open for some other interesting pieces of speculation (notice how we deal in speculation, not gossip) and send them my way. (Or heck, you can even send me something that is an actual fact.) Town Talk will take a break for about the next week, while I take care of a long list of chores that my wife has accumulated for me at the house. (Yes, all those jokes I've made about her are coming back to haunt me.) I'll talk with you next week.
Copyright 2018 The Lawrence Journal-World. All rights reserved. This material may not be published, broadcast, rewritten or redistributed. We strive to uphold our values for every story published.