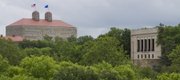 Subscribe to the email edition of Heard on the Hill and we'll deliver you the latest KU news and notes every weekday at noon.
Your daily dose of news, notes and links from around Kansas University.
• KU researchers landed a nice $7.5 million grant to study how online education works (or doesn't work) for students with disabilities.
The funding, from the U.S. Department of Education, will come over five years, and will seek to help researchers find out whether online learning is working for students with disabilities and to develop new methods of technology to improve learning, according to a KU release.
The fine folks at the Center for Research on Learning nabbed the grant, and they'll be forming the Center on Online Learning and Students with Disabilities with two other organizations with really long names, including the National Association of State Directors of Special Education (NASDSE) and CAST, formerly known as the Center for Applied Special Technology.
By their powers combined, they will look to identify trends and research needs related to online learning and identify and develop new online education interventions.
• Ralph Reed, the first executive director of the Christian Coalition who was once on the cover of Time Magazine in the 1990s, is scheduled to be in Lawrence today.
Journalist Tom Baxter, editor of the Southern Political Report and senior vice president of InsiderAdvantage, is one of the Dole Fellows this semester.
The Dole Fellows lead weekly sessions centralized around a specific theme. Baxter's is on Southern politics.
Reed will be the guest as the group discusses "The Megachurch and the Old Time Religion," and its context within that theme.
The sessions are geared toward KU students, but open to the public, and they generally build on each other.
But if you're interested in stopping by to hear Reed, the session is set for 4 p.m. this afternoon at the Dole Institute.
• I can sympathize with KU's recent efforts to try and get more scholarship money up front and in the hands of potential freshmen, because there really is a lot of money hiding out there in places people might not know where to look.
For example, KU is looking for people who could qualify for some federal Title VI money available for Foreign Language and Area Studies Fellowships.
KU's Center for Global and International Studies awards the fellowships, which can award up to $10,000 for tuition and $5,000 for living expenses for people studying some of the lesser-studied languages out there, some of which I didn't even know existed (I'm looking at you, Uighur).
But anyway, if you're studying Arabic, Chinese, Farsi, Hebrew, Hindi, Mongolian, Turkish — and, yes, Uighur — here's some info for you, to see if you qualify for these federal dollars.
• I'd really love to get a tip for Heard on the Hill in Uighur. So if someone could send that my way to ahyland@ljworld.com, that'd be really swell.
Copyright 2018 The Lawrence Journal-World. All rights reserved. This material may not be published, broadcast, rewritten or redistributed. We strive to uphold our values for every story published.