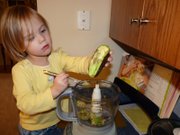 The fast and the furious: A movie franchise, yes, but also an apt description of dinners made on weeknights this time of the year. Holiday stuff, school stuff, work stuff, and life-in-general stuff are bound to get in the way as daylight savings barrels down upon the dinner table.
But throwing together dinner at a furiously fast pace doesn't have to mean a sloppy pasta-and-store-bought-sauce concoction or frozen dinners. Instead, it can be healthy, tasty and just as tempting as something you spend all Sunday slaving over.
The trick? Well, there isn't just one trick, there are a whole bunch of little things that add up to quick weeknight dinners.
Simple recipes = simply more time. Start dinner off right with the right recipe. Busy mom Kris Adair says that when trying to figure out if a recipe is quick, it's important first to study the ingredient list — don't just judge it by its name or what book it's in, she says.
"I adore Rachael Ray ... but she has 15 ingredients or 27 ingredients and I'm going, 'Oh my gosh, I want five ingredients,'" says Adair, who works part time and has two young girls, Audrey and Maurene. "Once Audrey started school, I started working in the afternoon, and so you go home and you literally just want to sit down. Everybody's hungry and pulling on your skirts."
Arm yourself with a plan. Planning ahead of time is the quickest way to cut down on the dinnertime rush says Kansas City chef Nancy Stark, who plans her meals — and leftovers — in advance.
"If you already know, 'On Tuesday night we're going to have pizza and on Wednesday night we're going to have pad Thai,' you've got all the materials in the house, and you can do a little advance work if you need to," says Stark, who teaches classes at The Merc, 901 S. Iowa. "But, mostly, it's just having an idea of what you're making and having all the materials in the house — you're (already) 90 percent (of) the way there."
Stark also keeps a running list of unfinished ingredients and uses that list to account for any food that might fall through the cracks in her plan. The result is less waste and less time spent riffling through drawers trying to figure out what'll go with the tomatoes on their last legs.
"Perishables — like, if I bought a bunch of cheese at Costco, and I know I'm long on peccorino and I've got a big hunk of manchego or if I bought salmon and have that in the freezer or I have avocados I need to use up," she says. "I just make a little list and I just gaze at that and that gives me an idea of what needs to be cooked."
Prep your food, too. Another no-brainer, but it's hard to execute with a schedule that leaves weird gaps like Tuesday nights or the early afternoon on Saturdays to prep.
Try chopping up veggies for a salad right after coming home from the store. Or prepping everything you need for a casserole on a night when dinner is a heat-and-eat leftover affair. Using 20 minutes to prep for the next day and throwing it in the fridge is the perfect way to get yourself ahead without devoting extra time.
Stock your freezer. Adair has a deep freeze and uses it to help dinnertime by not only freezing prepared meals (like casseroles) but also by storing frozen veggies of all stripes. It's a system that has evolved over time.
"I've learned a lot of tricks, like, you can buy prepackaged onions, well, I can chop an onion and then you freeze it," says Adair, who has a freezer full of pre-chopped goodies from the CSA bag she received all summer. "When I first started cooking, I would go and buy all that stuff frozen. Until I realized that it was just chopped-up onions."
And the freezer isn't just for frozen veggies and meat. Stark has an ingenious plan for healthy frozen pizza. She makes her own dough and, instead of freezing the dough in need-to-roll-out balls, she rolls out the fresh dough and parbakes individual pizzas. She lets them cool and then bags each crust separately in large plastic freezer bags. She stacks the crusts and then pulls one out whenever she has zero time and a craving for pizza.
Use the right tools. Beyond your freezer, other tools to make weeknight life easier include the crock pot and food processor. Ingredients for the crock pot can be prepared the night before, making dinner a snap the next night after the pot cooks the meal all day while you're away. But again, be careful with those crock pot recipes.
"I got a lot of great crock pot recipes (from friends), but some of them were like, 'OK, first you have to braise your meat,' or 'First, you have to sear your meat,'" Adair says. "No, I want to throw it in, I want to leave."
The food processor can shred and chop items with speed and uniformity, or it can make meal accompaniments like guacamole or pesto in a flash. And, of course, there's the king of fast cooking: the microwave.
"We don't eat beef. So, pork is a big thing and I can cook a pork chop in eight minutes," says Adair, who blogs about her cooking adventure at inthekitchenwithaudrey.com. "We eat a lot of chicken as well, and I've learned to put chicken in a Pyrex in the microwave for eight to 10 minutes. And cook it the same way you would cook an oven meal, only half the time in the microwave."
Don't sacrifice price for time. It might seem easier to just pick up a bag of pre-sliced veggies or prepared meats to save time in the kitchen, but if you do, your grocery bill is going to go through the roof. And even then, the cost-benefit analysis doesn't make it any better to buy the more expensive, pre-prepared foods says Adair. Couple the cost with the health factor — Adair would rather avoid additives — and there's no way any of that stuff will end up in her cart, anyway.
"Healthy has always been my big thing. It's hard — how do you come up with something that's not processed or packaged? Of course, I could get a microwave meal and have it done in two minutes, but it's loaded with sodium," Adair says. "There was somebody who (did) a cost analysis of a specific convenience item based on the amount of time it saved you. And most of it was just an absolute joke."
Recipes
Warm Thai-Style Scallop and Mango salad with Chicory
12 ounces bay scallops, rinsed and drained or medium shrimp, shelled and deveined
6 tablespoons Oriental salad dressing, divided
5 cups baby lettuces
1 cup chicory, chopped
1 mango or papaya , peeled, seeded and chopped
1 medium cucumber, peeled, seeded and cut into half-slices
1 yellow, green or red bell pepper, cut into julienne strips
1/4 cup cilantro leaves
Cook scallops in 1 tablespoon salad dressing for 2 to 3 minutes, or just until opaque (if using shrimp, cook until shrimp turn pink).
Remove from heat. Toss together salad blend, chicory, mango, cucumber, bell pepper and cilantro leaves with 4 tablespoons salad dressing.
Spoon mixture onto three serving plates.
Arrange scallops over each salad; drizzle remaining 1 tablespoon dressing over scallops.
— Recipe from www.dole.com.
Weeknight Taco Salad
4 8-inch flour tortillas
1 pound ground beef
1 (1-1/4 ounce) packet taco seasoning mix
4 cups shredded lettuce
1 cup Mexican-style, finely shredded four cheese blend
1 large tomato, chopped
1/4 cup ranch dressing
Heat oven to 425 degrees.
Crumple 4 large sheets of foil to make 4 (3-inch) balls; place on baking sheet. Place 1 tortilla over each ball; spray with cooking spray. Bake 6 to 8 minutes or until tortillas are golden brown. (Tortillas will drape over balls to form shells as they bake.)
Meanwhile, cook meat with taco seasoning mix as directed on package.
Fill shells with lettuce, meat mixture, cheese and tomatoes just before serving. Drizzle with dressing.
— Recipe from www.kraftrecipes.com.
Grilled Chicken Chipotle Wrap
4 tablespoons olive oil
1 onion, sliced
1 each red, green and yellow bell pepper seeded and sliced into strips
1 clove garlic, crushed
8 ounces chicken breast grilled and cut into strips
4 whole flour tortillas warmed
Chipotle Aioli
1 cup mayonnaise
2 tablespoons chipotle in adobo sauce
2 tablespoons chopped cilantro
3 teaspoons minced garlic
1 teaspoon cumin
2 tablespoons lime juice
Salt and pepper to taste
Place all ingredients for aioli in blender. Blend until smooth. Place in bowl. Cover. Put into refrigerator until ready to assemble wrap.
In a sauté pan, heat oil and cook onion and bell pepper until translucent, add garlic and sauté briefly. Add chicken to pan, heat thoroughly and place in bowl.
Spread chipotle aioli evenly on warm tortillas. Place chicken mixture on tortilla. Roll up and serve.
*If you have extra aioli, you can use as dip for chips and fresh veggies.
— Recipe from www.melissas.com.
Quick Noodle Salad with Tofu and Vegetables
1 (8-ounce) package pad Thai-style rice noodles or whole wheat linguine
1 cup mung bean sprouts
1/2 cup chopped green onions
1 (8-ounce) package baked tofu, cut into small cubes
1 large carrot, grated
1/2 cup prepared peanut sauce or Asian salad dressing
1/4 cup chopped cilantro
1/4 cup chopped roasted and salted peanuts
Salt
Bring a large pot of salted water to a boil; add noodles and cook until tender. Drain and rinse in cold water; drain again and transfer to a large bowl.
Add sprouts, green onions, tofu, carrots and dressing and toss to coat. Transfer to bowls and serve garnished with cilantro and peanuts.
— Recipe from www.wholefoodsmarket.com.
Tomato and Spinach Pasta Toss
2 cups rotini pasta, uncooked
1/2 pound Italian sausage
1 package (6 ounces) baby spinach leaves
1 can (14-1/2 ounces) Italian-style diced tomatoes, undrained
1 cup shredded mozzarella
2 tablespoons grated parmesan
Cook pasta in large saucepan as directed on package, omitting salt.
Meanwhile, cook sausage in deep large skillet on medium-high heat 10 to 12 minutes or until done, stirring occasionally. Drain; return sausage to skillet. Add spinach and tomatoes; cook 2 minutes or until spinach is wilted, stirring occasionally.
Drain pasta; return to pan. Add sausage mixture and cheeses; mix lightly.
— Recipe from www.kraftrecipes.com.
Copyright 2018 The Lawrence Journal-World. All rights reserved. This material may not be published, broadcast, rewritten or redistributed. We strive to uphold our values for every story published.