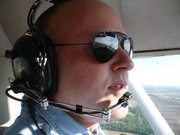 If the price of aviation fuel continues to rise, Seth Fox said he'll fill his plane with ordinary gasoline.
After landing his two-seat Cessna at Lawrence Municipal Airport, Fox, a pilot from Atchison, said he wasn't kidding about the gas. He's done it before, although it did cause the plane's single engine to fail during landing. Fox said that was "no big deal."
"I'd switch to high octane," he said. "It burns better."
Aviation fuel prices, just like gasoline, continue to climb. But while gasoline hasn't yet reached $4 per gallon locally, owners of private aircraft generally pay at least $5 per gallon.
At Lawrence Municipal Airport, Hetrick Air Services Inc. offers refueling service at $5.88 per gallon. According to AirNav, an aviation information service based in Atlanta, fuel in Kansas City, Chicago and Dallas is more than $6 per gallon. In Washington, D.C., it's more than $8. Nationally, the average wholesale price of aviation fuel rose almost 25 percent in the first three months of 2011.
Runway clearance
On this day, Fox was the only pilot in sight. He parked his Cessna next to the lone King Air 350 propeller plane on the tarmac.
Airport operator Lloyd Hetrick said fewer planes have been coming through the airport since 2008. He owns Hetrick Air Services, and his 22 employees account for about half of the airport staff.
"Our traffic is down, there's no doubt about that," he said. "But probably what's affecting us most, and eating into profits, is the price of fuel."
Hetrick said there have been no layoffs because of the downturn, and he didn't expect any. But less money moving through the airport means less tax revenue for the city. A 2009 economic impact study by the Kansas Department of Transportation estimated that Lawrence's airport contributed $10.7 million to the region's economy through payroll, purchases and taxes.
Because the municipal airport does not operate a control tower, exact figures relating to its traffic are not available. But estimates provided by the city government as part of an airport study show a significant drop in traffic. In 2001, total operations — takeoffs and landings — were estimated at more than 31,000. In 2009, FAA estimates showed more than 34,000 operations, but that figure dropped below 32,000 in 2010, a decline of nearly 6 percent.
Hetrick said the airport averages about 50 operations per day. At that rate, the airport would handle fewer than 20,000 operations this year.
The decline isn't just local. The Aircraft Owners & Pilots Association reports that, nationally, 1.4 million small aircraft were no longer on airport traffic logs between 2008 and 2010.
Institutions such as Kansas University have also reduced chartered flights.
At Lawrence Municipal, not far from Fox's Cessna, KU's eight-seat Cessna Citation Bravo sits in a private hangar. The Cessna carries university staff on fund-raising and recruiting trips but flies less often now than it did three years ago. KU also maintains partial ownership of a six-seat King Air C-90B in Kansas City. University flights have dropped from more than 400 in 2007 to fewer than 300 in 2010, according to Jill Jess, a university spokeswoman. She said the reduction in flights was largely due to university budget cuts.
Those flying university aircraft can purchase fuel at a discount because KU belongs to a corporate aircraft association. At $4.55 per gallon, KU does better than Fox, the private pilot who paid $5.40 when he filled up in Atchison. Even so, KU spent $727,600 to maintain the aircraft in 2010, up from less than $700,000 in 2007.
KUMC Outreach reduction
Departments such as KU Athletics and KU Medical Center pay the university for fuel and other flight costs when they use the planes. KU Med's rural outreach program accounts for about 60 percent of the university flights. It, too, is feeling the pinch of rising fuel prices.
The medical center's rural outreach program flies cancer specialists and other physicians across Kansas to treat patients. Dave Cook, assistant vice chancellor of the outreach program, said flying was often the only way specialists could easily reach patients in small towns.
"In Hays, Garden City, Goodland, there just aren't that many oncologists or rheumatologists," Cook said. "So people don't have access."
While driving or flying commercially is often cheaper, physicians with morning and evening rounds do not have time to drive several hours to Garden City and back or wait in airports, Cook said. But he said budget cuts and increased fuel costs oblige KU Med to stretch its travel dollars. To save money, KU Med physicians sometimes practice "tele-medicine," meeting with patients via Internet video software.
Cook said he's not sure what the future holds for the program.
"The way things are going, as we look into the future, it's a little scary," he said. "Everything is under the microscope."
Friendly, empty skies
Fox owns High Plains Inc., a liquor distillery in Atchison. He flies for recreation and said his Cessna "just sips the fuel" at 5.5 gallons per hour. Because the plane is paid off, it doesn't cost him much, but if the day comes when he can't afford fuel, he'll sell it. He said he thinks other pilots, saddled with loan payments, higher fuel costs and other pressures in a down economy, have already sold theirs.
That's why airports such as Lawrence's have seen fewer planes on the runway in the past three years. A city study projects future increases in traffic as the economy recovers and Lawrence air traffic follows national trends upward at a rate of about 3,000 operations every five years. But for now, the skies are emptier than they used to be.
Copyright 2018 The Lawrence Journal-World. All rights reserved. This material may not be published, broadcast, rewritten or redistributed. We strive to uphold our values for every story published.