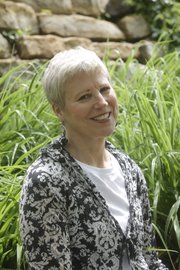 When Katie Becker retired from teaching at Hillcrest School in 2005, she wasn't ready to retire from working with children. So she began one of the most challenging and rewarding experiences of her life.
She became a Court Appointed Special Advocate, working with abused and neglected children in care of the juvenile court.
"It was a way for me to still have a connection with kids and make a difference in a child's life on a different level than you do when you are a classroom teacher," said Becker, who was recently honored as the United Way Roger Hill Volunteer Center's 2010 Wallace Galluzzi Outstanding Volunteer of the Year for her work with Douglas County CASA.
Becker's first case involved a 2-year-old taken from her mother.
"Here is this parent of my CASA child who was never nurtured properly herself, who grew up in a dysfunctional home. So how do you teach her how to create the proper environment for her own daughter?" Becker said.
But Becker did. During the two years she was on the case, she loved her CASA child like a grandmother and helped the child's mother on her challenging journey to becoming a better parent. Becker connected with extended family and foster parents, conferred with social workers and lawyers, and wrote reports and recommendations for the judge. The case ended with the child being returned to her mother.
Since becoming an advocate, Becker has volunteered more than 100 hours a year, working on five different cases and helping children from toddlers to teens navigate a difficult time. The relationships she's formed with the children have been meaningful, and some have even extended after the children were placed in a permanent home.
"With any volunteer work, you almost gain more than you give," Becker shares. "It's a huge feel good, just the feeling you have inside."
The feeling is mutual, if you ask the families who find themselves under Becker's care, says Carolyn Johnson, volunteer supervisor for Douglas County CASA.
"When I'm standing in the hallway at the courthouse waiting for a hearing, and one of Katie's kids is hugging her and telling her their latest news, it's easy to see how much they appreciate her involvement in their lives," Johnson said. "Everything Katie touches, she just makes magical. She is a wonderful lady."
Currently, 52 advocates are assigned to 72 children in Douglas County. The agency adds up to 20 advocates a year, but still there are children on the waiting list to receive an advocate, Johnson said. For information, visit dccasa.org.
Copyright 2018 The Lawrence Journal-World. All rights reserved. This material may not be published, broadcast, rewritten or redistributed. We strive to uphold our values for every story published.