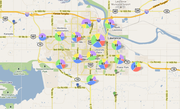 A set of interactive Google maps providing a breakdown of crime in Lawrence in 2011.
One person was transported to Lawrence Memorial hospital after hitting a deer in the 2200 block of Louisiana Street just before 11 p.m. Monday in Lawrence, according to Lawrence Police Sgt. Susan Hadl. The person's condition is currently unavailable.
Copyright 2018 The Lawrence Journal-World. All rights reserved. This material may not be published, broadcast, rewritten or redistributed. We strive to uphold our values for every story published.