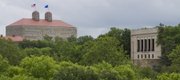 Subscribe to the email edition of Heard on the Hill and we'll deliver you the latest KU news and notes every weekday at noon.
Your daily dose of news, notes and links from around Kansas University.
• Stacy Leeds, an administrator at the KU School of Law, has been selected as the dean of the University of Arkansas School of Law. She will begin in her new post on July 1.
Leeds had been serving as interim associate dean for academic affairs at the KU School of Law and as director of the Tribal Law and Government Center at the school.
She joined the KU faculty in 2003 after serving as assistant professor of law at the University of North Dakota School of Law.
Good luck to her in the new post.
• The NCAA released its latest Academic Progress Rate scores that track how well teams are performing academically, using graduation rates and grade point averages.
KU is in good shape, with no penalties incurred in any sport (and men's basketball earning a perfect score of 1,000).
Other schools, however, are not so lucky, including the men's basketball national champion University of Connecticut, which had a score of 893, well below the 925 cutoff point to receive penalties.
UConn will have a reduced number of scholarships as a result.
The Chronicle also pointed out a number of other interesting tidbits, including that the big-time sports, like men's basketball and football, seemed to struggle the most. Men's basketball accounted for 23 percent of the failing teams, and football another 11 percent.
Another interesting tidbit pointed out by my esteemed colleague Matt Tait — the NCAA will be releasing scores for coaches for the first time. So football coach Turner Gill's performances while at the University of Buffalo will follow him to Kansas.
That should be interesting to watch, too.
• The Hall Center for the Humanities has announced its speakers for the 2011-12 year. The lectures are free and open to the public and begin at 7:30 p.m.
Programs include:
Laurence Rees, the former head of BBC Television's history programs and the author of several books on World War II. He will speak Sept. 20 at Woodruff Auditorium in the Kansas Union.
Diane Ravitch, a research professor at New York University and an advocate for public education reform and the other of 10 books on education history and policy. She will speak Oct. 18 at Woodruff Auditorium.
Louis Menand, the Anne T. and Robert M. Bass Professor of English at Harvard University, who will present "A Man is Shot: The Cold War Meaning of a Cinematic Technique." He will speak Nov. 17 at the Spencer Museum of Art's auditorium.
Jeff Moran, a KU associate professor of history, who will present "American Genesis" Antievolution Controversies from Scopes to Creation Science." He will speak Feb. 16 at the Commons in Spooner Hall.
Alain de Botton, the founder of Living Architecture, a nonprofit organization whose goal is to build interesting and affordable vacation housing in the United Kingdom. He will present "Religion for Atheists" March 14 at the Commons.
Jamaica Kincaid, the Josephine Olp Weeks chair and professor of literature at Claremont McKenna College who has published 15 long works and was a longtime contributor to the New Yorker. She will present "Landscapes and Memory" April 10 at Woodruff Auditorium.
• You can present anything you want to me at any time. Just send me an email at ahyland@ljworld.com.
Copyright 2018 The Lawrence Journal-World. All rights reserved. This material may not be published, broadcast, rewritten or redistributed. We strive to uphold our values for every story published.