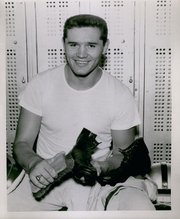 George Mrkonic, one of 13 first-team All-Americans ever to put on a Kansas University football helmet, died after a long battle with cancer on May 23. He was 81.
Mrkonic, an offensive lineman who played tackle at KU from 1950-52, was named an All-American following the 1951 season. He also was a two-time All-Big Seven selection and was regarded by many as one of the finest offensive linemen ever to play at KU.
"He was the perfect example of what every coach is looking for, on the football field and in the classroom," said former KU coach Don Fambrough, who helped recruit Mrkonic and headed up the freshman team in 1950. "He loved KU, and he was one of the greatest players I ever coached. I don't know what else to say about him. I can't praise him enough."
While those who saw him play have spent the past few days remembering all the wonderful things about him, Mrkonic never let his devotion to his alma mater be questioned. Diagnosed with Stage 4 cancer more than three years ago, he continued to attend all of KU's home football games. As the years passed, Mrkonic's tales of his KU days increased. In fact, his wife, Ruth, relayed a story Monday night about the way in which her husband introduced himself to new acquaintances throughout the years.
"His name's on the stadium," Ruth said. "That's the first thing he tells people when he meets them: 'It's the third one up there on the stadium.'"
That's not arrogance. That's pride.
Born to immigrant parents in McKeesport, Pa., on Dec. 17, 1929, Mrkonic came to Lawrence because of the efforts of his high school coach, who made a connection with then-KU head coach J.V. Sikes and helped his standout player find a place to play college ball.
While here, Mrkonic, a member of the Phi Delta Theta fraternity, helped KU to a 21-9 record, including an 8-2 mark in 1951 and a 7-3 record in 1952.
After leaving KU, Mrkonic was drafted in the fourth round of the 1953 NFL Draft by the Philadelphia Eagles.
He played one season with the Eagles and one season in the Canadian Football League.
Later, he went on to become a lieutenant colonel in the Air Force Reserves.
Mrkonic reflected fondly on his time at KU.
"It certainly turned out to be everything that he would've wished that it would be," Ruth said.
There was a reason for that, according to Fambrough. Mrkonic was a coach's dream, the kind of player who dealt in 'Yes, sir' 'No, sir' sentences and did whatever was asked no matter what the situation.
"Coach Sikes just loved him," Fambrough said. "Loved him. Coach Sikes was one of the toughest coaches I'd ever been around, and George Mrkonic was his type of player. Every coach would've loved to have him."
In 2003, the program's Defensive Scout Team of the Year award was named in Mrkonic's honor. In addition, the auditorium at the Anderson Family Football Complex also bears his name.
In lieu of a funeral, Ruth said the family would have a small gathering to honor her late husband. She also said the family had asked that anyone desiring to make a charitable donation in Mrkonic's name do so however they see fit.
"I think he was honored in life," Ruth said. "He was sick for a long time, and we had all come to terms with it. All except him. He just loved life so much, and he just thought he could put it off indefinitely. He's gotten a really extended time here so he can't complain."
Copyright 2018 The Lawrence Journal-World. All rights reserved. This material may not be published, broadcast, rewritten or redistributed. We strive to uphold our values for every story published.