Eighteen-month-old Liesl Nelson giggles as her mother propels her through the water at the Lawrence Indoor Aquatic Center. Nearby, her 3-year-old brother, Finn, jumps into his dad's arms from the side of the pool.
These kids look like fish, well, in water. And that's by design. Heidi and Ben Nelson decided early on they wanted their children to be around water as infants.
"I'm not that avid of a swimmer, but I like my children to be more comfortable in the water," Heidi Nelson says. "I'd say it was about 50/50 safety and to be interested in swimming."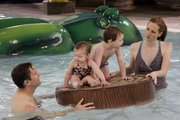 Early lessons
For information on children's swimming classes through Lawrence Parks and Recreation, visit www.lawrenceks. org/lprd/aquatics/ classes.
The American Academy of Pediatrics last year recommended children as young as 1 year old take swimming lessons. The previous recommendation was 4 years old.
"Not everyone should go out and get their children swimming lessons immediately," says Dr. Jeffrey Weiss of Phoenix Children's Hospital, who wrote the pediatrics organization's policy. "But there may be some beneficial effect."
The Consumer Product Safety Commission estimates nearly 300 children younger than 5 die each year from drowning. On top of that, the agency says, 3,200 young children visit hospital emergency rooms each year because of near-drownings. Weiss says lessons can be a way to reduce the chances of drownings.
Lawrence Parks and Recreation offers swimming lessons for children as young as 6 months. Those Parent/Child Classes gave Liesl and Finn Nelson their introduction to the pool.
Becky Childers, assistant aquatics supervisor for LPRD, says she's seen children as young as 9 weeks at the pool.
"The sooner you can get your child used to the water, the better," Childers says. "Learning to swim is a lifelong skill. We want children to love the water, but also respect the water and be safe in the water."
The Parent/Child Class involves kicking, blowing bubbles and floating on both the front and back. Participants play games and sing songs. Aquatot class, for children ages 3 and 4, focuses on the fundamentals of freestyle swimming and floating.
"With the infants, you hear a lot of shrieking and some crying," Childers says. "You will see a lot of splashing with their little legs kicking in the water. Some of the toddlers may be a little more unsure of the water at first, but by the end of the class, they cry because they have to get out and go home."
She says for children who are fearful of the water, a few trips to the pool usually alleviate that fear.
Of course, safety is a concern, even with parents holding their children. Childers recommends swimming diapers for children who aren't potty trained. And she says children at the outdoor pool who are wearing suntan lotion can be quite slippery, so parents have to take extra precautions when carrying their kids.
Heidi Nelson says she enrolls her children in every class she can. They usually go to the Indoor Aquatic Center, though they'll venture downtown to the outdoor pool this summer.
She says, from her observations, parents who act comfortable in the water are more likely to have children who are comfortable in the water.
"We've always enjoyed it. We have so much fun with them laughing," Nelson says. "They're really comfortable in the water now. I can't imagine them not taking classes because they love it so much."
Copyright 2018 The Lawrence Journal-World. All rights reserved. This material may not be published, broadcast, rewritten or redistributed. We strive to uphold our values for every story published.