Whenever I hear the term "gypsy," the soulful voice of Curtis Mayfield and the Impressions immediately comes to mind. Much like their sweet, slow song "Gypsy Woman," gypsy-inspired fashion styles have softly rolled in. Gypsy and bohemian looks were popular looks on the spring and summer runways, and the looks are popping up on the streets as well. Read on for ideas to incorporate this unconventional, universal style into your wardrobe.
Essentials:
Gypsy and bohemian clothing styles are perfect for summertime. Loose-fitting tops and long, flowing dresses are cool and flattering. Pieces can be easily mixed and matched with other summer wardrobe essentials — shorts, skirts, hats and sandals.
• Maxi dress
• Peasant tops
• Full skirs
• Embroidered blouses
• Floral prints
• Jewel tones
• Crop-tops
• Printed jumpers
Style: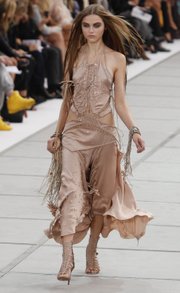 There are many ways to style and interpret the gypsy trend. Pick looks that will flatter your body type and let your personality shine.
• For a casual, downtown outfit: Pair an off-the-shoulder blouse or peasant top with your favorite summer jean shorts and gladiator sandals.
• For an outdoor event or backyard BBQ: Wear a long, flowing skirt with a cropped top and a pair of strappy sandals.
• For a sophisticated, work or dinner look: Pair together jewel-toned separates in soft, feminine fabrics. Accentuate your waist with a skinny leather belt.
• For an urban-gypsy look: Mix tailored clothing pieces, like high-waisted trousers and denim blazers, with a loose-fit, floral-print blouse.
Extras:
To amp-up your gypsy-vibe, don't forget to accessorize your outfit. Wear your hair down and natural, complete with a head-scarf or turban. Finish your look with your favorite gypsy/bohemian accessories:
• Lace-up leather sandals
• Long necklaces
• Chunky, layered bangles
• Leather wrap bracelets
• Feathers
• Brown pouches and cross-body bags
• Gold earrings
• Leather belts and cuffs
• Oversized bags
For more inspiration, see runway looks by Emilio Pucci Spring/Summer 2011, Roberto Cavalli Spring/Summer 2011, D&G; Spring/Summer 2011 and Yves Saint Laurent Spring/Summer 2011.
Copyright 2018 The Lawrence Journal-World. All rights reserved. This material may not be published, broadcast, rewritten or redistributed. We strive to uphold our values for every story published.