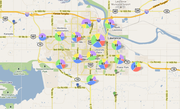 A set of interactive Google maps providing a breakdown of crime in Lawrence in 2011.
Kansas Attorney General Derek Schmidt's office is gearing up to handle more cases that fall under the state's sexually violent predator law by empowering more prosecutors to take the cases to court.
Douglas County District Attorney Charles Branson and Amy McGowan, a chief assistant district attorney who handles a majority of the county's sex crime cases, have been named special assistant attorneys general and are participating on a committee with 16 other prosecutors statewide to examine the cases.
The cases are filed in district courts once someone convicted of a sex crime comes close to being paroled but they have been determined as high risk because of a mental abnormality or personality disorder to re-offend by Kansas Department of Corrections staff members and mental health professionals.
The law, which has been upheld by the U.S. Supreme Court, is aimed at keeping high-risk offenders for treatment at Larned State Hospital once their sentence expires. The cases can proceed to district court trials if they are contested.
"The expansion of the prosecutor review committee is important to the attorney general because the flow of sexually violent predator cases continues," said assistant attorney general Christine Ladner, who is chairwoman of the state committee. "People continue to be convicted of sexually violent offenses, and it's important that when we are reviewing and prosecuting these cases that there is geographical representation on the judgment behind who we charge."
The attorney general's office used to handle all sexually violent predator cases until former Attorney General Paul Morrison expanded the committee to include prosecutors from Wyandotte, Johnson and Sedgwick counties. Schmidt recently expanded it to include Reno, Douglas and Shawnee counties and added four other prosecutors from more rural regions of the state.
Ladner said the prosecutors on the committee typically review five to seven cases per month flagged by the KDOC and vote by conference call whether to pursue them as sexually violent predator cases at a district court level.
Branson said the review process is helpful because it offers a chance for a fresh set of eyes to look at a case. Several prosecutors who were not initially involved in prosecuting the case can provide a new perspective on whether the defendant might benefit from more treatment in the state's program.
According to Douglas County court clerk records, there are three pending sexually violent predator cases here. The attorney general's office filed one in December against Dale D. Patterson Jr., 32, who was convicted of two counts of aggravated criminal sodomy of a child in a 2002 case, according to KDOC records.
Branson's office this month filed a case against Kodi A. Thomas, 41, who was convicted of attempted rape and aggravated burglary in a 1996 case, and Christopher John Saemisch, 53, who was convicted for a 1996 aggravated indecent liberties case.
"Clearly the importance of these cases is that the penitentiary system isn't completely adept to fully treating somebody in this type of situation before we release these people back out in to the community," Branson said. "If it's something that's going to benefit from further care and treatment by the state in a secure setting, it just benefits the public as a whole. It gives them a better chance of being successful after a release, and it also protects the community."
Copyright 2018 The Lawrence Journal-World. All rights reserved. This material may not be published, broadcast, rewritten or redistributed. We strive to uphold our values for every story published.