Looking for family-friendly activities to do this summer that don't involve plunking the kids down in front of a TV? Celebrate a holiday every day this month, culled with permission from Brownielocks.com, with some of these ideas, recipes and deals.
June 1
Say Something Nice Day
Give away compliments all day. They're free!
Greet a stranger walking down the street.
June 2
National Bubba Day
"Mama always told me miracles happen every day. Now some people don't think so. But they do."
"Mama always said, life is like a box of chocolates. You never know what you're gonna get." — Tom Hanks in "Forrest Gump"
Purchase a box of chocolates and enjoy!
June 3
Doughnut Day
Glazed, sprinkled, fruit-filled or crème-filled, satisfy your sweet tooth today.
Make a batch of doughnuts at home.
Grandma Gladys' Fabulous Buttermilk Donuts:
1 egg and 2 egg yolks
1 cup sugar
1 cup buttermilk
1 tablespoon of oleo (butter), melted
1 teaspoon vanilla
3 1/2 cups sifted flour
2 1/2 teaspoons baking powder
1/2 teaspoon salt
1/2 teaspoon ginger
1 teaspoon nutmeg
1 to 2 quarts cooking oil
Powdered sugar
In a medium bowl, beat egg and egg yolks, until light and foamy. Beat in sugar. Blend in buttermilk, melted butter and vanilla. Measure and sift flour. Sift again with baking powder, baking soda, salt, ginger and nutmeg into the buttermilk mixture. Mix with electric mixer on low speed until just combined, dough will be soft. Turn onto well-floured board. Dust fingers generously with flour. Gently pat dough to 3/8 inch thickness. Cut donuts with floured cutter. Let donuts stand uncovered 30 minutes before frying. Preheat cooking oil to 370 to 375 degrees. Cooking oil should be at least 1 inch deep during frying. Slide doughnuts into oil with slotted pancake turner. Fry only a few donuts at a time. Make sure oil is hot before beginning each batch. Add oil as necessary. Turn donuts as soon as they float to the surface. Turn again when medium golden brown. Remove when both sides are equally browned. Drain on paper towels. When cool, sprinkle with sifted powdered sugar. Makes about 2 1/2 dozen.
June 4
Drawing Day
10 a.m.-11:30 a.m. Sidewalk chalk drawing at the Lawrence Public Library, 707 Vt.
June 5
World Environment Day
World Environment Day is an annual event that is aimed at being the biggest and most widely celebrated global day for positive environment action, according to www.unep.org.
• Shop locally with cloth bags
• Turn off your lights when leaving a room
• Pick up litter in your neighborhood
• Recycle
June 6
Drive-In Movie Day
Plan a trip today to watch a drive-in movie during the summer. Look for shows at this Kansas City, Kan., drive-in: www.boulevarddrivein.com.
June 7
Pick up your favorite carton of chocolate ice cream, stop by a local ice cream shop and grab a scoop or make your own.
June 8
World Ocean Day
Make plans to visit Rolling Hills Wildlife Adventure Zoo and Museum, www.rollinghillswildlife.com, just six miles west of Salina. The Rolling Hills Wildlife Adventure Zoo and Museum is a member of the Associations of Zoos and Aquariums, which is a sponsor of World Ocean Day. Members of AZM are planning family fun activities to honor World Ocean Day. Check out www.aza.org/world-ocean-day to learn more.
June 9
Donald Duck Day
Waddle on to the library and check out their collection of Disney books and movies.
June 10
Iced Tea Day
Brew a pitcher of sun-tea and enjoy with your evening meal or invite the neighbors over for a glass.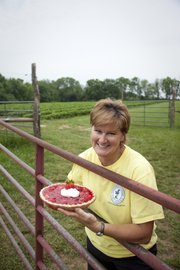 June 11
National Fruit and Veggies Month
Visit the Lawrence Farmers' Market today and pick up some local produce for dinner tonight. Jane Wohletz of Wohletz Farm Fresh, 1831 N. 1100 Road, shares her recipe for Strawberry Pie:
Simple Strawberry Pie
1 cup of sugar
1 cup of water
2 tbs of strawberry gelatin
3 1/2 tablespoons of cornstarch
2 cups of strawberries, sliced
1 9-inch baked pie shell
Whipped cream
Mix together the sugar, water, gelatin and cornstarch in a medium saucepan. Cook over low to medium heat until thick (about 10 minutes). Place the cut berries in the baked pie shell. Pour mixture on top. Cool completely. Top with whipped cream before serving.
June 12
Whip up a batch of your favorite Peanut Butter Cookies and enjoy with a glass of milk. June is also National Dairy Month!
June 13
National Juggling Day
Grab two or three tennis balls or oranges and give it a try. Have a friend help with the fun.
June 14
Pull out photo albums and talk about family memories.
In 1916 President Woodrow Wilson issued a proclamation that officially established June 14 as Flag Day.
June 15
Nature Photography Day
Wake up early and snap pictures of the sunrise. Take a walk on the trails, through campus or Old West Lawrence and shoot pictures of the nature around you.
Readers 18 and under are invited to send in their photos taken this day to go@ljworld.com by June 18 for a future photo feature package.
June 16
Fudge Day
Fudge
2 cups of sugar
2/3 cup of milk
2 ounces of unsweetened chocolate or 1/3 cup of cocoa
2 tablespoons corn syrup
1/4 teaspoon salt
2 tablespoons butter
1 teaspoon vanilla
1/2 cups nuts (optional)
Butter a 9-by-5-by-3 loaf pan. Combine sugar, milk, chocolate, corn syrup and salt in saucepan. Cook over medium heat stirring constantly until chocolate melts and sugar is dissolved. Cook to 234 degrees or until small amount of mixture dropped into very cold water forms a soft ball.
Remove from heat and add butter. Cool without stirring to about 120 degrees. Add vanilla and beat 5 minutes. Mixture will hold its shape when dropped from spoon. Spread into pan and let cool.
— Recipe courtesy of Margie Carr, contributing writer to Go!
June 17
National Flip Flop Day
Decorate a pair of flip-flops for summer. Readers 18 and under are invited to submit photos of their decorated flip-flops to go@ljworld.com by June 20 for a future photo feature package.
Or wear two different flip-flops for the day.
June 18
International Picnic Day
Pack a picnic and head to an area lake, pond or your favorite outdoor place. Remember a blanket, your sunscreen and bug spray.
June 19
Father's Day
Honor your father or a significant male figure in your life.
June 20
American Eagle Day
Check out books on the American eagle at the Lawrence Public Library.
Head out to Clinton Lake and count how many eagles you discover.
June 21
World Handshake Day
Shake hands with people you interact with today. How many hands did you shake?
June 22
National Listen to a Child Day
Encourage your child to stage a talent show or read aloud from a book — whatever makes them feel they've got your undivided attention.
June 23
Let It Go Day
Think of a grievance or grudge you've been holding onto and "let it go" for the day.
June 24
Celebration of the Senses Day
Have a tasting or smelling contest with friends or family.
Eat a meal with your eyes closed today.
Try out a new perfume or cologne today.
June 25
Great American Backyard Campout
Put up the tent, roast s'mores and count the stars in your own backyard. Don't forget the bug spray.
June 26
America's Kids Day
A day set aside to teach children the importance of citizenship.
June 27
Happy Birthday to You Day
This is the day to honor Mildred J. Hill, the original composer of the popular song sung at most everyone's birthday party.
It's also Helen Keller's birthday.
Have an impromptu birthday party for someone in your family, a friend, a pet or treat yourself.
Take this calendar into Cupcake Construction, 727 Mass., today only, and receive their special "Happy Birthday Cupcake" for only $1.
June 28
National Columnists Day
Read and cross off all the articles you read in the Lawrence Journal-World.
E-mail your favorite columnists from a local, regional or national source and let them know how much you appreciate their work.
June 29
Camera Day
Snap and click the day away.
June 30
National Bomb Pop Day
Enjoy the classic summer treat.
Copyright 2018 The Lawrence Journal-World. All rights reserved. This material may not be published, broadcast, rewritten or redistributed. We strive to uphold our values for every story published.