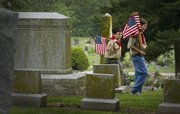 A group of Lawrence Boy Scouts honored Civil War veterans buried in Lawrence on Saturday, and got a little history lesson, too.
Brian Van Schmus, of Lawrence, is a member of the Sons of Union Veterans.
"Our purpose is to keep alive the memory of those who fought for the Union side in the Civil War," said Van Schmus, who is the great-great-grandson of a Union veteran and a self-described "history geek."
He's also an assistant scoutmaster for Scout Troop 53, and has been leading groups of Scouts to place flags by the graves of Civil War veterans at Oak Hill Cemetery for six years now, he said.
It became "just a logical joining of efforts," he said, with the Scouts' desire to create good citizens. "This is a great way to foster that, too."
The flag placements were often accompanied by small history lessons.
Samuel J. Churchill got a flag. He was a Medal of Honor recipient who by himself fired his cannon 11 times while the rest of his crew fled.
Talking to the Scouts and other volunteers before they began to place flags Saturday morning, Van Schmus told the group that Civil War veterans from all over the country chose Lawrence as a home after the war.
Thirteen-year-old Elijah Ray of Scout Troop 60 said he didn't know much about the Civil War, but he seemed to grasp the concept behind honoring those who fought in it.
"They fought for us," Elijah said. "Some of them died for us."
Another grave was for Capt. A.R. Mills, and Van Schmus pointed out the "U.S.C.T.," for U.S. Colored Troops.
Officers in those regiments, Van Schmus said, were typically white while enlisted men were usually black.
Andrei Elliott, a 16-year-old member of Troop 53, said he hoped the flags would show something to those who would see them this weekend.
"For anybody who comes by this cemetery on Memorial Day — and there are a lot of people that do that — they'll see that there are people who care," Andrei said.
Copyright 2018 The Lawrence Journal-World. All rights reserved. This material may not be published, broadcast, rewritten or redistributed. We strive to uphold our values for every story published.