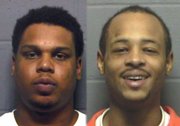 A 31-year-old Lawrence man is asking a judge to withdraw his guilty plea in the 2006 shooting death of a Lawrence hip-hop artist alleging he was mislead into taking the deal.
Major C. Edwards Jr. pleaded guilty to voluntary manslaughter March 19, 2010, for the death of Anthony "Clacc" Vital, who was found dead Oct. 15, 2006, in a rural driveway west of Lawrence.
Now Edwards claims he was promised he would receive a seven- to eight-year prison sentence but instead is facing 18 years for his voluntary manslaughter conviction.
Edwards was also the state's key witness in the first-degree murder trial earlier this year of co-defendant Durrell Jones, 24, of Kansas City, Kan. Edwards alleged he led Jones to Vital when he knew Jones had a firearm and wanted to collect on a drug debt. Edwards also alleged Jones later threatened him with a gun to keep driving the vehicle west of Lawrence and that, once they stopped in a rural driveway, Jones shot Vital.
Jones' defense attorney John Kerns had argued to jurors Edwards was not credible and was trying to get a lesser sentence by pinning the murder on Jones. The jury was unable to reach a unanimous verdict in Jones' trial, and Chief District Judge Robert Fairchild declared a mistrial and has scheduled a new trial for August.
Edwards' defense attorney Napoleon Crews said the motion to withdraw his client's guilty plea focuses on the various communications between Edwards and his attorney at the time, the former attorney and prosecutors and what was said during the plea hearing.
Edwards' attorney for the plea was District Judge Kay Huff, who left her private practice in January when she was appointed to be a Douglas County judge.
"Negotiations regarding prison time were ongoing and occurred months after my client actually pleaded guilty," Crews said. "Inconsistencies exist throughout the various lines of communication and bear directly on whether the plea was entered knowingly and under fairness, especially in the face of testimony under oath that Mr. Edwards did not in fact murder the victim."
During a brief hearing Friday morning, prosecutors said they needed more information than what was in Crews' one-page motion.
"As it exists now, it contains a number of broad allegations that the state would have a hard time defending against," chief assistant district attorney David Melton told Fairchild in court.
Fairchild scheduled a hearing on the defense motion for July 13. Edwards is expected to testify. Melton also said prosecutors anticipate Huff may need to be called as a witness. Crews said the defense did not intend to call Huff to the stand.
The defense motion asks Fairchild to withdraw the plea and set Edwards' case for a jury trial. According to the motion, Crews alleges Edwards was not sufficiently questioned about his understanding of the plea negotiations and the consequences of entering the guilty plea, including discussion he had with Huff about the plea.
According to a transcript of the plea hearing on March 19, 2010, chief assistant district attorney Amy McGowan said the two parties agreed to ask Fairchild to give Edwards a standard range sentence of 18 years in prison based on his criminal history.
Huff agreed and told Fairchild they had also agreed prosecutors would recommend the judge order his state prison sentence run concurrently with his five-year federal sentence after he pleaded guilty to unlawfully carrying a sawed-off shotgun.
When answering questions from Fairchild at the plea hearing, Edwards said he understood that the judge was not required to follow sentencing recommendations from lawyers. Edwards also told the judge no one had made any threats or promises to him other than the negotiated plea agreement, according to the transcript.
Fairchild accepted Edwards' guilty plea in 2010 based on testimony at a November 2008 preliminary hearing in the case.
District Attorney Charles Branson said Edwards' allegations in his motion were not specific. Branson said Edwards had competent counsel at the time of the plea and that Fairchild properly questioned Edwards in court before accepting the guilty plea.
"Without further details," Branson said, "we see no basis for him to withdraw his plea."
Copyright 2018 The Lawrence Journal-World. All rights reserved. This material may not be published, broadcast, rewritten or redistributed. We strive to uphold our values for every story published.