Photo Gallery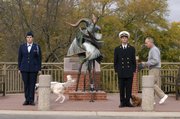 Lawrence area memorials and historical sites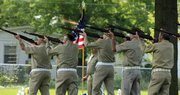 View a list of the men and women of Douglas County who made the ultimate sacrifice in serving our country.
Some are in plain view — such as the Memorial Campanile honoring Kansas University students who died in World War II.
Others are less prominent and much smaller.
Regardless of size or visibility, Douglas County features many memorials honoring people who served in wars dating back to the Bleeding Kansas days leading up to the Civil War.
"I think it's really great that this community recognizes those folks who have given their lives on our behalf," said Judy Billings, president of Destination Management Inc. in Lawrence.
Jerry Karr, a Vietnam veteran and president of the Lawrence Veterans of Foreign Wars post, says it's not surprising Douglas County has several memorials because of the area's history with the Battle of Black Jack east of Baldwin City, Quantrill's Raid in Lawrence and the number of residents who served in World War II and other 20th century wars.
"When people lose loved ones, feelings run high and they want to have a memorial for those people," said Karr, a retired Lawrence-Douglas County Fire Medical division chief.
Those feelings run even higher on Memorial Day weekend, as veterans, family members and the public visit memorials.
Below is a map of the well-known (and some perhaps not-so-well-known) memorials in Douglas County:
Copyright 2018 The Lawrence Journal-World. All rights reserved. This material may not be published, broadcast, rewritten or redistributed. We strive to uphold our values for every story published.