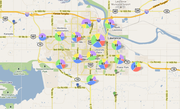 A set of interactive Google maps providing a breakdown of crime in Lawrence in 2011.
Topeka — Kansas will require first-time drunken driving offenders to use ignition interlock devices on their vehicles, starting in July.
Gov. Sam Brownback signed a bill Wednesday that strengthens the state's laws against driving under the influence of alcohol or other drugs. The new law also requires the state to set up a central database of driving-under-the-influence cases to track of offenders' histories.
Mothers Against Drunk Driving pushed Kansas to make its laws tougher. Last year, federal statistics showed alcohol-related traffic deaths in Kansas jumped in 2009, even as they dropped nationwide.
Current law suspends a first-time DUI offender's license for 30 days and allows a judge to order use of an ignition interlock for 330 days after that. The new law will mandate 180 days' use after the suspension.
Copyright 2018 The Associated Press. All rights reserved. This material may not be published, broadcast, rewritten or redistributed. We strive to uphold our values for every story published.