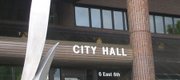 Subscribe to the email edition of Town Talk and we'll deliver you the latest city news and notes every weekday at noon.
News and notes from around town:
• In doing this job for awhile now, here's one thing that I've learned: If a tree fell in a forest and no one was there to hear it, someone still would complain that Westar Energy improperly cut it down. What I'm trying to say is, 'tis the season for tree trimming in Lawrence. Crews hired by Westar are out trimming trees that have grown near their power lines. According to information Westar provided to the city, crews will be in the general area of Kasold Drive, basically from Peterson Road to 31st Street. Crews may be a few blocks on either side of Kasold, as a major transmission line runs through that area. Tree trimming, Westar has said in the past, is an important part in preventing future power outages. Trees too close to power lines can obviously become a problem during severe weather.
But trees also are a big part of people's landscaping and even can carry with them an emotional attachment. Homeowners previously have had a hard time understanding how Westar can just come in and trim their tree, sometimes to the point that it becomes useless. The answer is an easement. Yes, the tree is your property and the property that the tree is on is your property, but Westar has an easement to run a utility line through your property. That easement also grants them a right of access to maintain that utility line, and keeping trees out of a utility line is a maintenance activity. All of this is to say that there is not much City Hall can do about the situation. Westar, not the city, makes the decision about whether a tree needs to be trimmed.
• As we reported Tuesday, there is indeed a new Etsy-like retailer coming to downtown. I got in touch with Jennifer Richards, who is an owner of the new store that hopes to open by July 1 at 737 Mass. The store — which also will be owned by her husband, Matt Richards — simply will be known as Made. That's a reference to the store's philosophy of selling only hand-made items. Richards about eight years ago started selling homemade children's clothing on the online retail site Etsy. Over the years, she began noting a lot of products on the site that she really liked. Now, she plans to bring them to Massachusetts Street. She expects the store to stock housewares, bath and beauty products, men's and women's accessories, children's clothing and toys, items for pets, and basically anything else that catches her eye.
"If it is fabulous and handmade, we may choose to carry it," Richards said.
And yes, Richards said she's all for doing business with local artists and crafters. She said anybody who has a product they are interested in selling the shop can contact her at madeonmass@gmail.com. She also said she plans to have a suggestion box in the store where customers can alert her to items they have seen at craft fairs that she should be stocking.
I'll watch this store's future with some interest. There's growing talk on Massachusetts Street about how the Internet is one of the largest challenges small downtown retailers are facing. Here's one business that is trying to flip that around. I suspect others will try to figure out how to make the Internet work more for them too. The fine folks at Weaver's recently said at a Downtown Lawrence Inc. meeting that they are considering hiring an employee that will help them do more online retailing. It all creates a lot of questions for the future, like: If we have a virtual Mass. Street, will it also have a virtual honk for hemp guy?
• One more follow up on a story we did yesterday. Johanna Thomas, the mother of triplets that we featured in an article, noticed that several online comments asked whether there was a place to drop off donations for the babies. Well, there is now. Thomas has arranged for donations to be dropped off at Catholic Charities, 1229 Vt. People can drop off needed items like diapers, wipes, onesies and, well — as my wife can tell you — I'm starting to exhaust my baby knowledge here. But you get the picture. Donations can be dropped off from 9 a.m. to 4 p.m. Monday through Thursday and 9 a.m. to 2 p.m. on Fridays.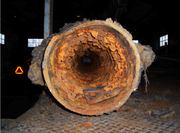 • Finally, a picture is worth a thousand words — and perhaps a water filter. At Tuesday's City Commission meeting, commissioners set a bid date for a $1.4 million project to replace old water lines on Ninth Street from Tennessee to Vermont streets, and on Kentucky Street from 12th to 19th streets. You'll see a lot more about the project in the future. Work is expected to begin in mid-July and could last through the end of the year. Traffic will be limited to one lane in many places, and left-hand turns will be a thing of the past for awhile.
But what is interesting now is these old pipes The pipes along these stretches of road range from 1886 to 1922. The photo to the left shows what the inside of an old pipe that was taken from this area previously looks like. That is a nearly 90-year old, 10-inch cast iron pipe that has about five to six inches of corrosion inside of it. Yes, I do think that I should get a commission on all water filter sales made in Lawrence today.
The new pipes in the area will be plastic.
Copyright 2018 The Lawrence Journal-World. All rights reserved. This material may not be published, broadcast, rewritten or redistributed. We strive to uphold our values for every story published.