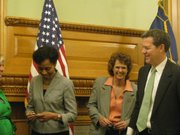 Topeka — An initiative to increase the number of engineering graduates in Kansas, which had been dramatically resuscitated at the end of the legislative session, was given final approval Wednesday by Gov. Sam Brownback.
"This is a great day," Kansas University Chancellor Bernadette Gray-Little said after Brownback signed two higher-education engineering bills. "I'm happy to see us get to this point," she said.
One bill authorizes KU to issue $65 million in bonds to build a 100,000-square-foot engineering classroom building next door to a $20 million engineering research building that is currently under construction.
The other bill allows KU, Kansas State and Wichita State each to receive $3.5 million annually from state gambling revenues. The funds, which must be matched by the schools, will be used to beef up engineering programs.
Senate President Steve Morris, R-Hugoton, called the initiative a "jobs bill" that would help cure an engineering shortage.
As early as 2008, higher education and industry officials had been pushing for funds to help achieve a goal of increasing the number of engineering graduates in the state from 875 per year to 1,365 per year by 2021.
"In a session marked with many tough choices, this initiative is a choice I am proud to make -- a choice to get our state back on the road to job creation and economic recovery," Morris said.
But the initiative faced uncertain odds late in the legislative session.
The Senate had approved a version of a bill that would have allowed $195 million in loans for engineering programs.
The House balked at the price so the bill sat in committee for weeks.
But as the session wound down, negotiators hammered out a compromise and signed it May 13, the last day of the session.
Brownback was adamant that the Department of Commerce provide oversight for the initiative, rather than the Kansas Board of Regents, which oversees higher education. Brownback said the Commerce Department was better matched toward making sure the funding commitment produced jobs.
The bonding provision included only KU because the school was ready to push forward with its building plans.
"This is something we've been working on for quite a long period of time," Gray-Little said.
Copyright 2018 The Lawrence Journal-World. All rights reserved. This material may not be published, broadcast, rewritten or redistributed. We strive to uphold our values for every story published.