Photo Gallery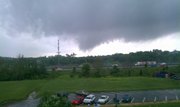 Kansas City tornadoes
Multiple tornado warnings and funnel clouds were reported in the Kansas City area Wednesday, May 25, 2011.
Kansas weather updates, via Twitter
12:48 p.m. update
The flood advisory for Douglas County has been allowed to expire.
Isolated thunderstorms are possible for the remainder of Wednesday, mainly along and west of U.S. Highway 81.
12:13 p.m. update
Tornado warnings are creeping their way northeast and are moving out of Kansas into Missouri. The latest report of rotation was over the Truman Sports Complex.
We're uploading photos that we're getting from people in Douglas County and Kansas City.
12:07 p.m. update
The NWS has extended the flood advisory for Douglas County until 12:45 p.m.
11:57 a.m. update
National Weather Service reports some rotation in the northwestern corner of Leavenworth County.
11:45 a.m. update
Rotation is now reported near 75th and State Line, according to @KCWeather. The Overland Park police department does not have any reports of damage so far.
11:34 a.m. update
@KCWeather is now reporting possible tornadoes near I-435 and State Line.
11:22 a.m. update
Johnson County law enforcement report a tornado on the ground near 137th and Metcalf in southern Overland Park. Please take shelter immediately if in the area.
11:09 a.m. update
A tornado has been reported on the ground near U.S. Highway 69 moving into Johnson County via the #ksstorms hashtag on Twitter.
Please take cover if you are in the area.
11:04 a.m. update
There are multiple reports of tornadoes on the ground in Miami County near Louisburg. A tornado warning is in effect for Johnson County.
10:54 a.m. update
The National Weather Service in Topeka has issued an urban and small stream flood advisory for parts of northeast Kansas including:
Douglas County
Northern Franklin County
Shawnee County
Jackson County
Jefferson County
The advisory is effective until 11:45 a.m. Heavy, slow-moving rain will make its way across northeast Kansas Wednesday, bringing 1-1.5 inches of rain fall as it passes. Excessive runoff and rainfall will cause high water on some roads and near creeks and streams.
The advisory includes the Kansas Turnpike between mile posts 171 and 205, Interstate 35 between mile posts 180 and 198 and Interstate 70 between mile posts 347 and 355.
The Kansas City metro area is under a tornado watch until 6 p.m. Wednesday. Counties included on the Kansas side of the state line are:
Johnson
Leavenworth
Miami
Wyandotte
Check back with LJWorld.com for updates.
Copyright 2018 The Lawrence Journal-World. All rights reserved. This material may not be published, broadcast, rewritten or redistributed. We strive to uphold our values for every story published.