Photo Gallery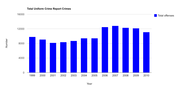 Crime in Lawrence from 1999 to 2010
A sampling of major crimes reported to Lawrence Police from 1999 to 2010. The statistics are used by the FBI for their annual Uniform Crime Report.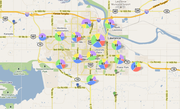 A set of interactive Google maps providing a breakdown of crime in Lawrence in 2011.
Related document

Last year, Lawrence followed the national trend of fewer incidents of crime, according to the FBI's annual Uniform Crime Report, released Monday.
Violent crime, which includes rape, murder, robbery and assault, dropped in Lawrence by 6.6 percent and 5.5 percent nationally between 2009 and 2010.
Property crimes reported in Lawrence dropped 8.8 percent from 2009 to 2010, compared with a 2.8 percent decrease nationally.
Here's a summary of the change from 2009 to 2010, provided by Lawrence police:
• Overall violent crimes dropped from 424 to 396.
• Rapes decreased from 57 to 47.
• Robberies decreased significantly from 76 to 56.
• 2010 was the second consecutive year without a murder in Lawrence.
Uniform Crime Reports are compiled from information submitted by local law enforcement agencies and only reflect crimes reported to police.
Copyright 2018 The Lawrence Journal-World. All rights reserved. This material may not be published, broadcast, rewritten or redistributed. We strive to uphold our values for every story published.