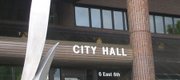 Subscribe to the email edition of Town Talk and we'll deliver you the latest city news and notes every weekday at noon.
News and notes from around town:
• File this in the category of incomplete information, but interesting enough to pass along anyway. A new retailer is moving into the former Eye Doctors shop at 737 Mass. Commercial real estate broker Allison Vance Moore of the Lawrence office of Colliers International tells me the store will be called Made Shops. The concept apparently is to sell items — perhaps everything from clothing, accessories and who knows what else — that are made by local folks. I've had others tell me that it is sort of like Etsy — the popular online retail site where people sell their own creations. I've got a call into the new owner, and will report back when I hear more.
• While we're on the subject of downtown, there was quite a bit of talk at last week's city-sponsored downtown listening meeting about the idea of making Massachusetts Street — or at least part of it — a pedestrian mall. Fans of that idea shouldn't get their hopes up. My sense is that this current commission would be more likely to pass a resolution declaring it Missouri Tiger Day than they would to vote to close Massachusetts Street. It seemed that more of the people suggesting the pedestrian mall ideas were shoppers of downtown rather than merchants. Several merchants said they were against it, and also noted that the idea did get some serious study decades ago. They said that examination suggested downtown would need to become more connected to all the density and traffic that exists on the KU campus before the pedestrian mall idea could work. One idea proposed then was a trolley that would run from downtown to KU, perhaps up 12th Street. That's fun to think about.
An idea that may be a little more serious for the near-term, though, is the thought of making one of the side streets into a pedestrian mall. Eighth Street — especially the part between Massachusetts and New Hampshire — would be the most likely candidate. That street gets shut down more often than any other in downtown to host everything from music events to shot put competitions. Former Downtown Lawrence Inc. director Jane Pennington, who now is organizing arts events in the area, urged commissioners last week to think about the idea. She said it could provide Lawrence with a downtown venue that perhaps wouldn't be a major impediment to traffic or parking. If she or others choose to really push that idea, it would be one worth watching at City Hall. It seems that there are three commissioners — Cromwell, Carter and Dever — who really like the vibrancy events bring to downtown. The other two — Amyx and Schumm — seem to like the events well enough but worry about the impact they have on traffic flow and other logistical issues that happen when events close down a major street. Perhaps having a venue on a lesser used side street would please both groups.
• Since we reported last week about EN Engineering's decision to leave Lawrence for a site in Olathe, I have heard from a few folks in the real estate/development community. Probably the most interesting thing I heard is that people are disappointed the company couldn't be convinced to expand its search in Lawrence to a wider geographical area. The company wanted to be on the east side — mainly somewhere east of Massachusetts and south of 15th Street — in order to give some of its Kansas City and other out-of-town employees — an easier commute into the city. (By the way, it seems that folks on the message board are under the impression that lots and lots of folks at the company live in Kansas City. I don't think that is the case. The EN Engineering employee who tipped me off to all this indicated quite a few employees at the company were upset about the move to Olathe.) Anyway, I did have people in the real estate business note to me that there are at least two large office spaces available on the east side of town that have pretty easy access to Kansas City. One is the former Riverfront Mall (no, the person who mentioned it to me is not one of my bosses here at the J-W, who also is part of the ownership group of the mall). The other location is the I-70 Business Center — the former Tanger Mall — in North Lawrence. My understanding is that the company never gave much consideration to those sites, both of which are north, not south, of 15th Street.
What I also heard from developer types, is that the Schwadas — who own the building where the company is currently located — were being reasonable with the company. Now, that's not a unanimous view. There are some who are mad at the Schwadas. But others said asking for a two-year lease was reasonable. First, they said one-year leases for office space aren't common currently. Second, they said the Schwadas had to approach the situation from the standpoint of knowing that EN Engineering was not going to be a long-term tenant anymore. This comes after the Schwadas likely spent tens of thousands of dollars putting together a proposal to expand at their Delaware Street location that ultimately was rejected by the company. Third, they largely agreed with the Schwadas' assessment that a six-month or perhaps even a year extension of the lease would not be enough time for the company to get a building constructed and occupied in Lawrence. That means EN likely would be in a position of asking for another extension. From a landlord's perspective, it is important to know with some certainty when a tenant will be out of your building. That gives you a much greater ability to market the building to future tenants. A two-year lease would have given the Schwadas that certainty.
Anyway, that was the view of some people in the development/real estate community. As I said, others felt the Schwadas could have done more. Take it all for whatever you think it is worth.
Copyright 2018 The Lawrence Journal-World. All rights reserved. This material may not be published, broadcast, rewritten or redistributed. We strive to uphold our values for every story published.