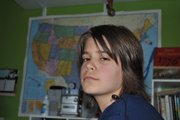 Lawrence may as well be the center of the geographic universe Wednesday, even with some of the finest young Earth-minded brains on the planet huddled in Washington, D.C.
Stefan Petrovic, a soon-to-be eighth-grader at South Junior High School, is among 10 contestants to make the finals of the National Geographic Bee, which winds up Wednesday in the nation's capital.
The final day of questions and answers will begin with opening remarks from none other than Brian McClendon, the Google executive and engineer behind Google Earth — a man who just happened to grow up in Lawrence and graduate from Lawrence High School, where Petrovic will be set to attend beginning in 2012-13.
For now, of course, Petrovic has work to do.
Having already won the Kansas state competition, he persevered through Tuesday's nine rounds of preliminaries, which started with 54 competitors: one representative from each state, plus the District of Columbia, Pacific territories, Atlantic territories and Department of Defense.
Petrovic was among six competitors to advance by correctly answering a tiebreaker question Tuesday:
Q: Annam and Cochin China are historic regions of what present-day country?
A: Vietnam.
Wednesday's final round will be moderated by National Geographic and taped for later showing on the National Geographic Channel.
The winner will receive a $25,000 scholarship. Last year, Petrovic finished fourth in the national bee.
Copyright 2018 The Lawrence Journal-World. All rights reserved. This material may not be published, broadcast, rewritten or redistributed. We strive to uphold our values for every story published.