Broken Arrow School sixth-grader Stefan Petrovic took first place in the state's 2010 National Geographic Bee in Abilene.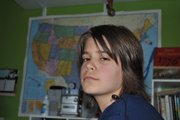 But he wants to make one thing clear: He's smart, but that doesn't make him a nerd.
Constitutional bee participants
Lawrence High School student Jonathan Cohen took second place at Saturday's Kansas Constitutional Bee State Finals in Wichita. The event tests students' knowledge of American history and civics.
Cohen was among 16 contestants in the second year of the state event, after qualifying in one of four congressional district regional competitions. Area competitors included Lawrence High student Matthew Drahozal and Free State High student Peter Bray.
Cohen, coached by teacher Mike Ortmann, will receive $500 for his second-place finish.
"No, I'm not. I hang out with my friends, have fun, play soccer," he said. "I'm not a nerd."
But he did show he knows a lot, about a lot of topics, including geography, economics and politics, beating out more than 100 other youngsters at the state competition.
Stefan said his passion for soaking up knowledge comes from frequent trips to Europe with his family. His father, Uros, and mother, Zina, are both from the former Yugoslavia and visit the region often.
"That's kind of what got me into the geosphere," Stefan said.
His father said Stefan is self-motivated and chooses to spend hours every day learning about the world.
"It's coming from him," Uros said. "I'm very proud."
Stefan's first-place finish Friday earns him a trip to the National Geographic Bee in Washington, D.C., May 24 to 27, where he'll face off against 51 other finalists across the country.
Stefan was joined in the state competition by fellow area contestants Tommy Finch from Central Junior High School, LeRain Big Goose from South Junior High School, Gabe Magee from Corpus Christi Catholic School and Alex Houston from West Junior High School.
Stefan said he isn't sure about his chances at the national competition, and he's modest about his big victory.
"Kids everywhere work so hard to get to this point, and it's just the luck sometimes," he said.
Stefan said he'll start preparing for nationals while trying to let the win sink in.
"I was in denial for a couple of hours," he said about the drive home after the competition. "When I got home, I went crazy. … I went 'Woo, I won.'"
Copyright 2018 The Lawrence Journal-World. All rights reserved. This material may not be published, broadcast, rewritten or redistributed. We strive to uphold our values for every story published.