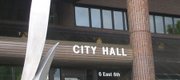 Subscribe to the email edition of Town Talk and we'll deliver you the latest city news and notes every weekday at noon.
News and notes from around town:
• If April showers bring May flowers on the botanical front, perhaps there is hope that April's struggles bring May buyers in the real estate market. (I don't do rhymes on Mondays.) New numbers from the Lawrence Board of Realtors show spring home sales did struggle in April. The board lists 95 homes sales in April, down nearly 35 percent from 146 homes sold in in April 2010. Last April, the market was being fueled by tax credits as part of the stimulus program. Those are long gone, and so are any hopes that the real estate market is ready to take off. But the April 2011 numbers are better than April 2009 totals, when just 83 homes were sold.
The same trend is showing up in the year-to-date numbers. For the first four months of the year, home sales are down 11 percent, totaling 291. But they are up from the 253 total from the same time period in 2009. Other facts and figures from the report include:
The average selling price in the first quarter of 2011 was $176,797, up 3.4 percent from a year earlier.
Homes were on the market for an average of 108 days before selling. That's up from 94 days in the first quarter of 2010.
The number of newly built homes that are selling continues to be the softest part of the market. Just 19 new homes have sold during the first quarter. That's down from 24 during the same time period in 2010. It is up from 15 in 2009.
There are signs that the new-home market is starting to adjust. In April, it was estimated that it would take 8.1 months to sell all the new homes that were on the market. That absorption rate was down from 12.6 months in April 2010. And just to show you how badly out of whack the market once was, the absorption rate in April 2009 was 27.5 months.
• Home building in Lawrence was more of a mixed bag in April, according to new numbers from the city. The city issued 14 single-family building permits in April. That's up from just 8 in April 2010. But for the entire year, single-family permits are down from 53 in 2010 to 33 in 2011. But the city has issued permits for 63 apartment units in 2011. That's up from none in the first quarter of 2010.
• If you are looking for a little bit of fun before the Memorial Day weekend gets started, the Lawrence-Douglas County Planning Commission will have two meetings this week. The first is tonight. The second is on Wednesday. Both are at 6:30 p.m. at City Hall. Among items up for debate are:
Approval of a Final Development Plan for Prairie Wind, an 18-unit housing development at 2620 Haskell Avenue. The project previously was approved for 17 homes as part of a plan put together by Lawrence architect Allen Belot. But now the documents show the property is owned by Lawrence's Tenants to Homeowners, which indicates the development will be a new affordable housing project.
Rezoning of 209 acres from Agricultural to Rural Tourism at 778 E. 1300 Road. As we previously reported, a plan has been filed to eventually convert the property — which surrounds a watershed lake — into a rural resort and cabin development.
A preliminary plat for the Kappa Delta house at 1602 High Drive. The organization says it is seeking the new plat to clear the way for possible site improvements to the sorority house. It looks like any improvements, though, could be contested by some neighbors. Part of the property includes a "rock garden" that some neighbors say has deed restriction on it that prohibits it from being developed in the future. Deed restrictions, though, generally are a matter for a court, not the Planning Commission.
Annexation and rezoning of 69 acres on the south side of North 1800 Road and East 950 Road. As we previously reported, this is the latest piece of property near the Lecompton interchange on the Kansas Turnpike to seek approval to market itself for industrial and warehouse purposes in the future.
If you really want fun, there are several proposed planning documents up for consideration. They include a Historic Resources Chapter for Horizon 2020, an Inverness Park District Plan for the area along Clinton Parkway between Crossgate and Inverness, and creation of a new zoning category called RM-64. The new zoning category would allow for more dense apartment complexes, if certain parking and other requirements can be met.
Copyright 2018 The Lawrence Journal-World. All rights reserved. This material may not be published, broadcast, rewritten or redistributed. We strive to uphold our values for every story published.