A high school teacher inspired local carpenter and business owner Ryan Cecil.

"Mr. Watson was a former builder, and he seemed successful," Cecil says. "He had all the guy gadgets, a cool truck and car, was a great teacher, and he inspired me to own my own business one day."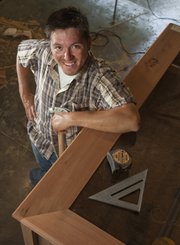 Cecil is now the proud owner of Cecil Construction and co-owner of Green Grass Lawn Care; the coveted guy gadgets and cool vehicles remain on his dream list.
Born in 1982 in Dodge City, where his parents worked in a beef-packing business, Cecil enjoyed playing outdoors with his younger sister and brother. He took vocational classes in school and particularly enjoyed carpentry and construction. Under Watson's watchful guidance, high school students built a house annually.
"Anyone could apply to buy the house we built," Cecil says.
"In my sophomore year we built the school police officer's house," he says. "He still lives there with his family. We also built the agricultural hall the school still uses for 4-H and other events."
Cecil derived such pride and satisfaction from seeing the completed buildings he enrolled in Northwest Technical College's carpentry department.
"I wanted to learn everything I could about making things well," he says.
After graduating in 2001, Cecil drove to Washington state to spend a week with some friends and loved the place so much he returned to Dodge City, packed everything into his Chevy and moved to Seattle.
"Things were expensive there, but I got plenty of work as a carpenter," he says. "It was a great place to be, and I loved exploring the incredible outdoors."
When a family member died a year later, Cecil discovered the exorbitant cost of last-minute airfares to Kansas.
"I realized I couldn't afford to see my family as often as I would like and couldn't get back as quickly as I needed if anything happened to them," he says. "I decided it was time to move closer to home and live and work within driving distance of my family."
Lawrence was his obvious choice.
"I've always loved Lawrence and knew it'd be a great place to live, work and enjoy the outdoors," he says. "As a teenager I visited friends and extended family here, and attended lots of great concerts."
Cecil moved here in 2002 and worked with local builder Scott Jackson, who became his mentor.
"Scott taught me everything I needed to know about building quality custom-made houses," he says. "Scott insisted we put our best effort into every job. I learned the importance of paying attention to the smallest details. I still apply these principles to all areas of my work."
Cecil gradually bought his own tools, did his own weekend projects on the side and continued to dream of being his own boss. He started Cecil Construction in 2008, and when the building boom subsided, he and his school buddy Randy Ackerman started their lawn care venture.
"We get on well together, business is good. I get to be outdoors," he says. "I'm still able to do carpentry and construction projects."
Copyright 2018 The Lawrence Journal-World. All rights reserved. This material may not be published, broadcast, rewritten or redistributed. We strive to uphold our values for every story published.