Photo Gallery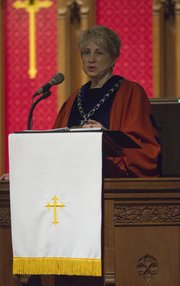 2011 Baker University graduation
Phil and Charlene Hannon had two reasons — Aaron and Annie — to celebrate Baker University's commencement Sunday afternoon.
The longtime Baldwin City couple rejoiced in two of their four children graduating from the university where Phil teaches and coaches baseball. Aaron and Annie Hannon followed in the footsteps of their older brother, Andrew, in becoming Wildcats after graduating from Baldwin High School. On Sunday, they shared their day together.
"Oh yeah, of course it's big for the family," Aaron said. "To have two graduates on one day is pretty special."
While it was a momentous day for the Hannons, Annie was quick to point out they aren't the same age.
"It's pretty special," she said. "I just hope no one thought we were twins or anything like that. A lot of people think that sometimes."
Aaron graduated BHS in 2006 and his sister was a year later. After high school, they both attended Baker on athletic scholarships. Aaron ran track and field while Annie played softball.
Whether it was four or five years at Baker, both graduates are excited to be finished with their college lives.
"I don't know how to feel now that I'm done," Annie said. "Sitting there, I didn't realize I was graduating. It hit me a bit ago that I don't know what I want to do with my life."
Annie graduated with a bachelor's degree in business management. Aaron earned a bachelor's degree in exercise science.
Both Hannons were welcomed by their father as they crossed the stage inside the Collins Center. Phil handed his children their diplomas and followed each with a long hug.
"I didn't know he was going to do that," Aaron said. "That was pretty special. It meant a lot."
Annie was also unaware her father — and not Baker President Pat Long — would be the one handing them their diplomas.
"That was a surprise," Annie said. "We didn't know he was going to do that. He sent us a text at 6 o'clock telling us that he was proud of us and that we were going to make him cry."
The Hannons were two of 174 students from the Baker University's College of Arts and Sciences, School of Nursing and School of Education who earned their degrees Sunday afternoon.
"I'm ready for what comes next," Aaron said. "I'm excited."
Copyright 2018 The Lawrence Journal-World. All rights reserved. This material may not be published, broadcast, rewritten or redistributed. We strive to uphold our values for every story published.