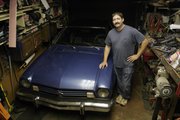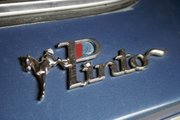 Kenny Eaton remembers the day the truck arrived at his house towing his new prized possession, a 1975 Ford Pinto he bought for a few hundred bucks.
His wife wasn't pleased.
"She came out waving her arms, saying, 'No, no, no. Get it out of here,'" the Topeka resident recalls. "It was four different colors. The windshield was cracked. She didn't see the beauty."
Three years later, the Pinto is only one color (metallic blue), has a new windshield and tires, and is getting an upgraded engine. Its vanity tag reads "X PLOD," reference to the Pinto's undeserved reputation for catching fire when it is hit from behind.
"'KABOOM' was taken," Eaton explains. "You've got to have kind of a warped sense of humor to drive a Ford Pinto."
No doubt that sense of humor will be out in full force for the Pinto Stampede, a cross-country rally of the maligned vehicles that kicks off Saturday and will be in northeast Kansas Sunday and Monday. The trip concludes June 2 in Carlisle, Pa., where the cars will lead the parade at the Carlisle Ford Nationals.
The Stampede is a fundraiser for the Wounded Warriors Project, which provides assistance to veterans injured while serving.
The Pinto celebrates its 40th anniversary this year. The Pinto, which Ford produced from 1971 to 1980, was known as an economical option with decent fuel economy during the energy crisis of the 1970s. However, the gas tank controversy — which a later study said was exaggerated by national media — marred the Pinto's legacy, and many took a one-way trip to the junkyard. Today, an estimated 5,000 to 10,000 of the 3 million Pintos produced remain.
The Stampede was organized by Pinto enthusiast Norm Bagi, who got the idea after watching a television that featured Ford Mustangs on a cross-country trip. The route starts in Denver, and the cars are scheduled to spend Sunday night in Salina.
The Pinto owners will tour Fort Riley Monday morning before heading for lunch at Specks Bar and Grill in Topeka. From there, the Pintos will hit I-70 and go to the Kansas Speedway in Kansas City, Kan., where they'll get to take a lap.
In all, about 35 Pintos will take part in the event, though some are only driving part of the route. Two trucks will pull trailers behind, just in case some of the cars don't make it.
"There's going to be some rusted-out junkers on the road, and some pristine ones that have been kept nicely through the years," Bagi says.
He says the Pinto offers an option for car-lovers to tinker with a classic vehicle without spending a fortune.
"The Pinto crowd is not the Mustang crowd or the Cougar crowd or the Porsche crowd," Bagi says. "They max out at about $5,000 unless you have a lot of investment in it. A lot of these people are not Fortune 500 types. They're the peanut butter and jelly crowd."
Bagi expects a positive reception on the road to Pennsylvania.
"It's an oddball," he says of the Pinto. "When you drive it around, the strangest thing happens. Nobody cuts you off or flips you off. They wave, beep and give you a thumbs-up.
"At the gas station, everybody talks to you about the Pinto. I've heard stories about people losing their virginity in them, or it was their first car in college, or it was the cheapest piece of crap they ever had."
Eaton, a Topeka police detective, plans to meet up with the Stampede group while the tour is in the area. He has never seen another Pinto in Topeka, so he's looking forward to chatting with other owners.
He says he recently saw a Pinto for sale online and suggested to some friends they should buy it.
"I need someone to buy one so I can call a meeting of the Pinto Club in town," he says. "Instead of just talking to myself."
Copyright 2018 The Lawrence Journal-World. All rights reserved. This material may not be published, broadcast, rewritten or redistributed. We strive to uphold our values for every story published.