Transitioning your wardrobe is a constant operation. Altering color combinations, switching up your beauty routine and swapping out everyday accessories are quick ways to update your style. Read on for more ideas to adjust to the season and discover a fun spring and summer outfit idea.
Gold plus white:
During the spring and summer, bright colors seem like the most appropriate wardrobe choice; however, my tendency to wear the neutral-colored, utilitarian clothing pieces of my closet is often difficult to overcome. If you, too, lean toward neutrals, ease into the rich colors of summer by inserting light crèmes and fresh, bright whites into your clothing rotation.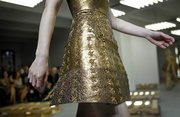 Pair crisp white tops and bottoms with gold accessories for a great summer look. The shimmery, golden accent is easy to wear and quickly adds just the right amount of color to your outfit. If you aren't sure what else to pair with your monochrome, summer-white outfits, go for other warm neutrals like wooden-heeled shoes, caramel leather belts and snakeskin clutches.
Bronze beauty:
From Alexander McQueen to Alexander Wang, metallic and gold clothing pieces and accessories were all over spring runways. Not only did designers favor the colors in their clothes, but they also utilized the hues on their models. Gold lips, dusted lashes, bronzed cheeks and luxe, gold-lined lids were all spotted on the catwalk. Be inspired by this beauty trend — use gold makeup as part of your own summer beauty routine. Gold powder is light and summery with just a hint of shimmer. Brush copper bronzer on your cheekbones and dust your lids with a fine layer of gold eye shadow. If you find that the sparkly shadow is falling all over, try patting shadow after application or using a finishing powder (I like Bare Minerals Original Mineral Veil).
Strike gold every day:
Although I love the combination of gold and white for summer, gold makes for a great accent color with most colors and is perfect for daily wear. If you normally wear silver jewelry, do try gold — the warm hue is complimentary, and it brings out that natural, summer glow in the skin and hair of both lighter and darker complexions. For a trendy, versatile gold accessory that can be dressed up and down, pick up a golden tassel necklace. (Bonus: tassels on purses, shoes, jackets, sweaters, jewelry…you name it, are super hot right now, so if you like the luxe look of a tassel, embrace it.)
Copyright 2018 The Lawrence Journal-World. All rights reserved. This material may not be published, broadcast, rewritten or redistributed. We strive to uphold our values for every story published.