Photo Gallery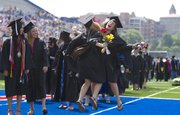 2011 KU Commencement
View a gallery of images from Sunday's 2011 Commencement at Memorial Stadium.
Kansas University graduates carried balloons, let the champagne flow and took lots of pictures as they walked through the Campanile and down the hill during Sunday morning's commencement ceremonies.
Carrying a giant green arrow so her parents could easily find her, mechanical engineering student Kayla Dill was still processing the day's emotions.
"It hasn't hit me yet at all," Dill said. "I'm sure when I'm driving out of town tomorrow, I'm going to cry. But I haven't thought about that yet. I'm just having fun."
Holding pink balloons and drinking sparkling wine, a group of Gamma Phi Beta sorority sisters didn't seem all that ready to put their college days behind them.
"It was four years I'd do again," said Betsy Miller, an accounting student who will go on to the University of Texas for graduate school.
Friend April Bell, a marketing major who is taking a full-time job in Denver, agreed.
"It was the best four years of my life. I can't imagine not having met the people that I have," Bell said. "Cue tears."
Britt Beasley had other reasons to celebrate. Instead of a mortarboard, Beasley was adorned in a Boston Red Sox hat, mainly because he's a die-hard fan and wore a Red Sox hat to most of his classes.
"It's been a long trip," said Beasley, whose six years of college entailed battling a brain tumor. He plans to go on to Boston to pursue a career in the baseball industry.
Elliott Krause was another student wearing a non-traditional cap. His was a wizard's hat indicating he was an honors thesis student in the English department.
"I wish it happened every year," Krause said of graduation.
The celebration of champagne and photos didn't stop when the students reached their seats for the commencement ceremonies in Memorial Stadium.
During her speech, KU Chancellor Bernadette Gray-Little asked the students to use their cellphones to take photos of themselves and those around them to then be posted to Facebook.
Those photos, Little said, should remind graduates of their great potential and the promise they are making to use that potential for good.
"In the years to come, remind yourself of this promise. All of us here today — your parents and family, your friends and the professors who greeted you as you entered into the stadium — have great expectations of you. But none of those are greater than the expectations you should have for yourself," Little said. "Live up to those expectations by making a living and life by keeping your promise to the future."
Copyright 2018 The Lawrence Journal-World. All rights reserved. This material may not be published, broadcast, rewritten or redistributed. We strive to uphold our values for every story published.