Photo Gallery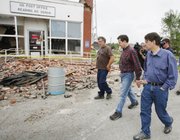 Tornado in Reading causes major damage
A tornado swept through Reading Saturday night, killing one person and destroying at least 20 homes, as severe thunderstorms pelted the region with hail that some residents said was the size of baseballs, authorities said early Sunday. Reading is about 67 miles southwest of Lawrence.
Utility crews were working Monday to restore power to the small town of Reading after it was struck over the weekend by a tornado with estimated winds of up to 165 mph.
The storm claimed one life as it moved through a corridor of northeast Kansas, causing extensive damage to Reading, a town of about 250 residents some 50 miles south of Topeka.
Sharon Watson, spokeswoman for the Kansas Division of Emergency Management, said crews from Westar Energy hoped to have electricity restored by the end of the day to 30 percent of the residents. Water and sewer service was out for all residents and no timetable was set for getting the functions restored.
Authorities have identified the person killed as 53-year-old Don Chesmore, who was in a mobile home that flipped over. He was taken to a hospital in Emporia, where he was pronounced dead.
The storm system brought tornadoes, hail, wind and rain. Watson said damage assessment teams concluded that 110 residences and other private buildings were damaged, with 26 being destroyed and 30 uninhabitable. Some 21 commercial buildings, including the school, were damaged, with 10 destroyed and four deemed uninhabitable.
A preliminary damage assessment placed the destruction at more than $2.2 million.
Watson said residents are receiving plenty of assistance from around the region and asked that volunteers call 211, a hot line established through the United Way, so the assistance can be coordinated.
"There have been a large number of volunteers. We really appreciate the support from Kansans," she said. "Cleanup is certainly the biggest job ahead for residents and the community as a whole."
A center in Emporia processed between 90 and 100 volunteers, and some had to be turned away. Mike Dorcey, chairman of the group managing the volunteer effort, acknowledged that the Kansas disaster quickly became overshadowed by the storm that hit Joplin, Mo., and killed at least 116 people.
"But we're not jealous," he said. "This is one battle we'll lose."
State and local officials, including Gov. Sam Brownback and Lt. Gov. Jeff Colyer, toured the Reading area by ground and air Monday to see the damage.
Brownback had flown to California on Saturday to participate in a national wind energy conference, where he planned to give a speech. But he flew back Sunday because of the tornado in Reading. He issued a disaster declaration on Sunday for 16 counties seeking federal assistance dealing with tornado and severe thunderstorm damage.
U.S. Rep. Tim Huelskamp, who represents the 1st District in Congress, says Monday that volunteers are helping residents clean up and begin recovering from the storm. Huelskamp's district staff was also surveying the damage.
Watson said a damage figure hadn't been determined Monday. It was unclear if the storm would meet the $3 million threshold level that could trigger federal assistance. However, Brownback said he would seek emergency loans through the Small Business Administration to assist residents.
Copyright 2018 The Associated Press. All rights reserved. This material may not be published, broadcast, rewritten or redistributed. We strive to uphold our values for every story published.