Every few minutes, Kelsey Potts' cell phone vibrates with either a direct message or a notification from her Facebook account, or a forwarded chain text. While the 13-year-old is at school, her phone is technically supposed to stay in her locker. But like most students, she keeps it stashed in her backpack and surreptitiously peeks at incoming texts when the teacher's back is turned.
Potts says, "We're not supposed to have our phones in class, but most teachers don't mind or don't know if we keep them in our pockets or backpacks. Whenever there's a message on my phone that I'm not able to get to right then, I'll be antsy until I'm able to get to it. I send or receive an average of 250 messages a day."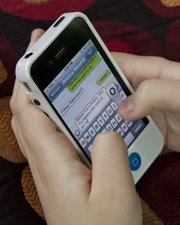 According to a study by Pew Internet and American Life Project, 75 percent of American teens own cell phones, an increase from 45 percent in 2004. Based on surveys with teens between 12 and 17 years old, texting beat out every other form of daily communication among teens, including cell and landline calling, instant messaging, using social networking sites or talking face to face. And emailing? It comes in dead last among the ways that teens communicate, with only 11 percent of teens using it on a daily basis.
Across the board, 88 percent of American teens text. And with unlimited texting plans, teens are literally texting around the clock, exchanging thousands of messages a month.
Cell phones, and presumably, texting, is also making serious inroads into the tween world of kids ages 8-12. At Sunset Hill School, third- to sixth-grade teachers were polled for how many of their students own cell phones. Cells start making a true appearance in third grade, with a few students owning them. The numbers jump to a third of students carrying cell phones by the fourth grade, and then another hike to one-half of students by the fifth grade. By sixth grade, the vast majority of students are carrying cell phones.

Kelsey's mother, Sheryl Potts, says, "We originally got Kelsey a cell phone when she turned 10 because I was often sick with fibromyalgia and needed a way to communicate with her about schedule or pickup changes. It's a very convenient way to keep in contact with her and exchange quick information."
While parents appreciate being able to get in contact with their children at all times, the downside is that texting among teens opens up yet another portal for risky behavior. Sexting, the act of sending sexually suggestive text or images through the phone, is one such concern. In a survey conducted by The National Campaign to Prevent Teen and Unplanned Pregnancy, 20 percent of teens ages 13-19 were found to have sent a sexually revealing image or video, with percentages increasing along with ages.
Kresten Spurling, the school resource officer at West Junior High, says, "What kids don't understand is that an impulsive text can have long-lasting repercussions. If sexting involves a person under the age of 18, we have to do a police investigation and possibly file a report with the district attorney. All of this could lead to a felony charge and having to be registered as a sex offender, which would remain in a person's permanent record and have to be disclosed in college and job applications."
Spurling also deals with the fallout of teens bullying through text messaging.
"There's not one day that goes by at West that some student doesn't come to me with a harassing text message that they have received. Kids feel like there is a cloak of invisibility that surrounds them in sending messages, because they aren't saying these things face to face. But this kind of bullying can get kids suspended or expelled from school, just like any other harassment during school time."
Spurling's recommendation is for parents to monitor their children's text messages. Many wireless phone companies have their own parental control systems for an extra charge, or there are apps and software that can be installed on phones.
But Kelsey balks at the thought of her parents going through her text messages.
"I don't have anything to hide, but I still wouldn't want them to do it. It would be an invasion of privacy."
Her parents do not read her text messages, but there are some ground rules, such as no use of the phone during meal times, and shut off at bedtime. She is allowed to use it during study time, but only about homework-related messages.
Other concerns over the ubiquitousness of teen texting include communication development, social interaction, peer influence, and concentration disruption.
Aimee Ziegler, guidance counselor at Free State High School, says, "So much of communication is about reading body language and facial expressions, the give and response of dialogue — but texting doesn't take that into account. It has the potential to exacerbate a conflict that a face-to-face conversation may easily clear up."
Another West Junior High teen, Katie Cattrar, says, "Texting can be a little disruptive when I'm trying to do something else, but still, I can't help but check whenever a text comes in. I hate having unread messages."
Copyright 2018 The Lawrence Journal-World. All rights reserved. This material may not be published, broadcast, rewritten or redistributed. We strive to uphold our values for every story published.